The next public venue for my work, I am happy to say, will be DCs Artomatic. Today Bryan and I took the metro downtown for the mad dash for a good space. Artomatic, although having gained a great reputation for gallery scouting, is a bit of a free for all when it comes to artists. You register and then all the artists that made it in are assigned a date and time to come and grab a good spot along with about 30 others at a time. I am really lousy at things like this akin to open seating at a concert. Maybe it is because I am not quite five feet tall, and so anything that requires pushing your way through has no appeal for me, in fact scares me. But I was pleasantly surprised. They actually have a really good system and I was amazed after hearing that 1500 artists will be showing, that they managed to keep it pretty organized. The spaces are either 8 x 8 or 8 x 12 feet, and although I was hoping for a larger space, my first criteria was to get the first space as you get off of the elevator on our assigned floor. Our group had the choice of 3 or 8 and there was a dash for three so I opted for eight and got my pick. Phew!
Having attended this last year I experienced how daunting the sheer number of works is and knowing that the viewer can get a little weary, I was hoping to get a spot that would catch attention early. Last year we chose to start at the top and work our way down, so assuming others might do this too, I have a good spot. 50 thousand attended last year and they expect 70 this year for the 10th anniversary.
here is my space. Each artist can paint or embellish their space however they see fit. Of course this prompted a brainstorming session on the train ride home.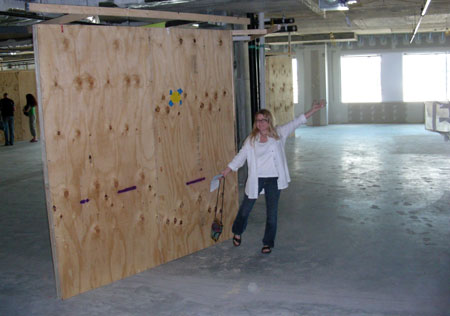 the view of the Capital from the venue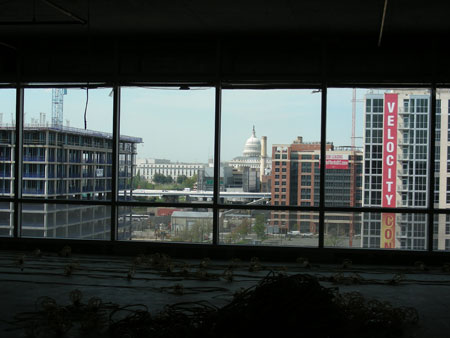 last year as attendees