More to report on the Exnihilo project. After waiting a ridiculous amount of time for our counsel to finalize some paperwork to make building on our property legal I finally pulled the plug and changed counsel.
And I couldn't be happier with her (the new counsel) and her office. She is on the case and understands the project which is key. But after getting all of our files from the previous counsel and reviewing them she regretted to inform me that I have to start the process all over again.
Because the previous counsel took too long.
sigh.
Yea... it only makes sense that they need every document to be up to the minute, but that even includes going through the process of getting a police record again... fingerprints and all. Which I did last january (08).
Not to mention we will be owing a couple of years of property tax that the previous counsel neglected to report.
ick.
If you ever wonder why there aren't more people going after their crazy dreams I can tell you from a person who is attempting it... the process can start to suck the helium out of what was once a big bouncy balloon.
Do you think they sell tenacity in chewable form? I could use a bucket full.
And while it feels like we are moving backwards on that front I am happy to report that our BIG building designs are moving forward. Our new project manager is fabulous and was able to take our sketch-up file which we labored over for months and turned it into a viable floor plan that is now in the hands of the engineering department for wind testing. Again we will probably need to make some adjustments regarding the number of windows, but I am still encouraged by the sense that the PM has got it goin on. The plans may not look like much but they represent the culmination of two years of research and all of the self revelation that happens when taking an idea towards reality. It is crazy head-exploding, nail biting stuff. Here they are...
main floor... kitchen, dining, gallery, library, solar-battery room, washrooms, reception, and studio space.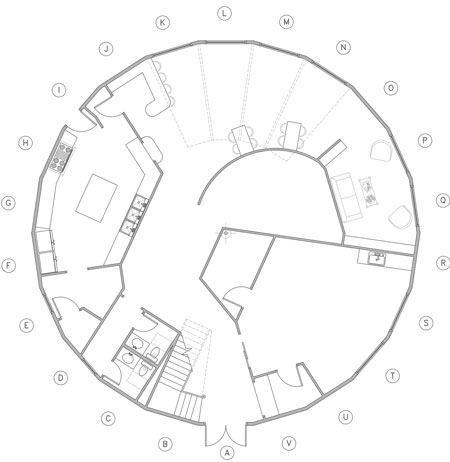 second floor... our bedrooms, recording studio, exercise room, and multi-purpose room (studio/gallery/classroom/yoga).