Thanks to Bryan's new flex-time schedule that allows him every other friday off we have been enjoying more three day weekends than the average bear.
This weekend was true of this.
Making another run at our remodeling projects we tackled a few things both as a team and as individuals.
For example:
I am learning how to mortar brick.
and it is ugly.
But the truth is I am loving every minute. Even in the ninety degree, 80 percent humidity, mosquito fest that it has been, I had a ball mixing mortar and repairing some ugly and hard to solve corners of our old wall. Sometime soon I will stucco what I actually built today, but for now this was a great lesson. And as a team we managed to pour eight bags of concrete to cap the wall to neaten the jagged old brick that was left on the lower wall. This preceeds the stucco and the capping with the tumbled stone.
So while I was playing in mud Bryan was solving a roadblock. When we originally chose this particular interlocking wall product for our project it was because you could use it to build a retaining wall, and then a regular wall that you can look at from both sides. The product boasted that all you have to do is split the block along the handy dandy score line provided by the manufacturer.
yea right.
They also boasted that you could make this job even easier if you rented a handy dandy mechanical block splitter.
ok.
Problem: No one rents these things. The closest one we could find was six hours away.
So Bryan got creative and built his own. And although it still means splitting them by hand, the blocks split more reliably then they did just using the manufacturers score line and a chisel.
We are way past the half way mark on this project of three years, and like a horse to the barn, are feeling a short reach to blissful closure of this monumental task. I am truly hoping that we can actually be finished before the bulk of leaves start to fall and the season is officially changed.
Of course that is what I said last year;-)
Bryan with his "splitter"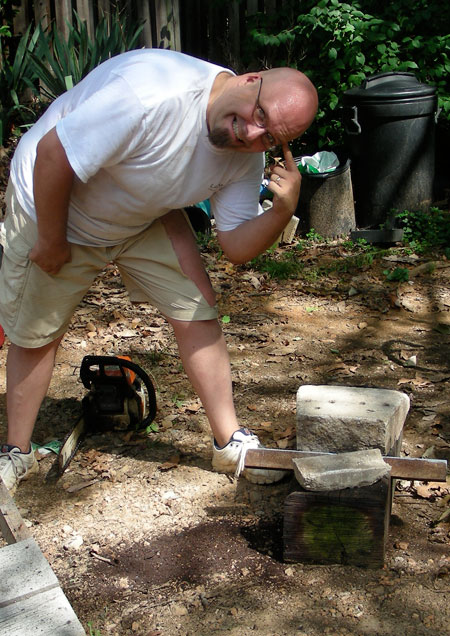 Blocks isn't the only thing that have gotten split. Check out the pants! These things will be shreds by the end of the season.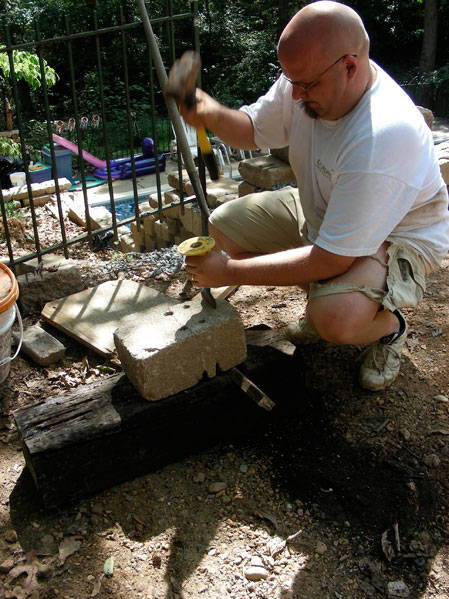 width="450" height="636" />
Adding concrete to level the top of the brick wall. This will then be stuccoed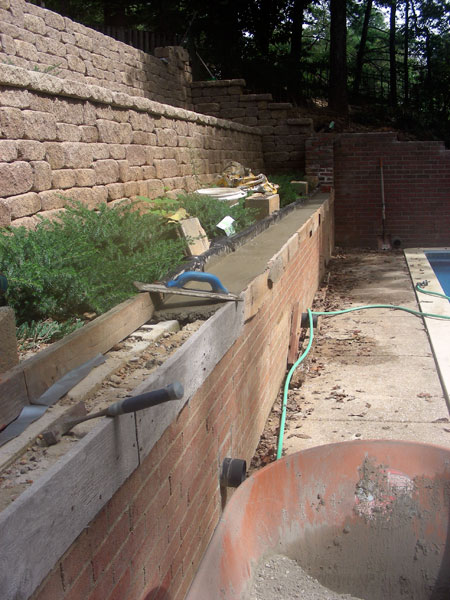 Forms removed.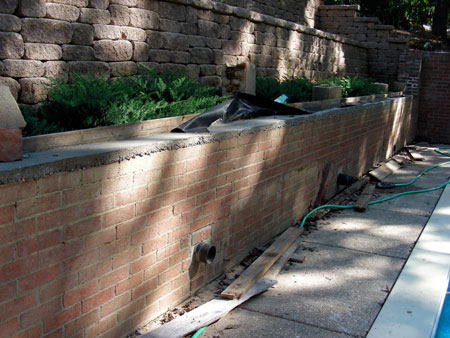 I couldn't resist the opportunity to do a test with the fresh concrete. Since this was going to get covered over with stone why not experiment a little.
Texture test for patio design. String, burlap, bubble wrap, canvas, and leaves.