What do you do when you haven't seen a friend in years and they just happen to be passing through town?
Meet for coffee to catch up on old times maybe? Go for dinner or a quick bite?
Normally the answer would be yes...
Unless that friend is a heavy metal rock star, Nicko McBrain, in which case you get back stage passes to have that coffee...
or in this case tea (Nicko being a good brit).
After a few days of calls and emails of "let's get together", yesterday Bryan woke up to an email that stated there would be passes at the gate for us and a friend that night.
Hey, when you are on tour there is only so much time to go around. Very gracious on Nicko's part, there isn't a sweeter man(at least in the heavy metal industry;-). And even though I am not a metal head, a concert would be fun but the best part would be to see Nicko again.
So our family and our friend Jeff (who is a maiden fan) headed toward Merriweather Post for the"Somewhere Back in Time" tour of Iron Maiden.
After the quasi-strip-search security check we collected our passes. I have to admit feeling somewhat guilty and undeserving. So many metal fans would give an arm and a leg for what I was about to put around my neck... the v.i.p tag. The venue was filled with the faithful followers of this band from the last several decades, and I felt like a somewhat privileged imposter. I hadn't earned this tag from years of collecting Maiden albums or hours listening to Maiden lyrics (I couldn't sing a single phrase). I hadn't worshiped at the alter of Eddie, the mummified mascot of the band. No, I got to wear this tag which allowed me into that hallowed ground (back stage) because my husband discipled the drummer.
Yea, weird I know. Any metal fans reading this just had their heads explode.
So we know Nicko in a very different way, a friend and brother in christ.
If you are confused you have a right to be. These are the weird twists and turns in one's journey that reminds you that god has a sense of humor and loves to be ironic. The back story in a nutshell...
Bryan was working as what we use to call "programming director" which was the equivalent of music director and leader of creative teams while planning services...etc, etc... for a large church in florida. One sunday his friend Adam(pic below) and member of the praise team spots this guy in the congregation and points him out to Bryan who then for some reason is prompted to catch him after the service and talk to him. The guy is searching. A dialogue ensues that becomes a discipleship relationship and friendship. Some great soul searching times. In a nutshell it is one of those cool god stories. Nicko even played on the praise team once in awhile (when he wasn't on tour). We had the honor of standing up for Rebecca and him at the renewing of their vows... spiritual stuff...normal life stuff...ministry stuff...
not rock star stuff...
Fast forward to the present...
the pass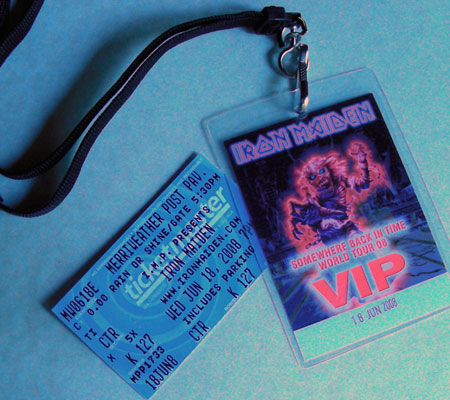 So now as I look down at this v.i.p tag I marvel at how bizarre life can be. We entered the room that is the "back stage" where food is laid out for the band, looking for Nicko only to get ushered out by one of the band's guard dogs a minute later waved back in by a smiling Nicko...
"Come in, come in... do you want something to eat?" (in that cool british accent) Kissing me on the cheek and giving Bryan and Daniel hugs along with a welcome and a handshake to our friend Jeff. He is wearing colorful and comfy scrub pants and a t-shirt with a cute cartoon character playing golf that says, "life is good".
Nicko loves to golf.
He ushers us in and points out the beverages, "tea?", I grab a cup and he drops a "proper english tea bag" into it, all the while chatting about this and that, lamb and yorkshire pudding was his dinner, "thank you Lord" (it is a favorite, again, being a good brit). We sit down and catch up on the status of friends, his wife and son, and so on. He talks about getting "clobbered" by a golfball that someone "shanked" without yelling four. Admitting that he had to stop and pray so not to get aggressive with the offender, "It was just an accident after all", while his injured wrist begins to swell from the indent of the golf ball. He laughs with that big smile continuing with the story of how he had a show that very night and his wrist wouldn't bend. "I had to adapt a little," showing us the awkward way in which he had to hold his drumstick to play. Smiling and shrugging like it was no big deal... from one of the best rock drummers in the world.
Conversation continues as he pulls out a tissue, apologizing that he has a sniffle all the while as jovial as a boy. He laughs and jokes with Bryan and Daniel bringing up some memories of when Daniel was twelve...
good memory.
We talk of other spiritual things but time is too short...
And then there is someone that needs an interview and although he seem reluctant to he cheerfully tells the guy to give him a few minutes more. We start to say our goodbyes and I snap a quick picture.
He has to be tired and feeling under the weather, or at the very least pre-occupied with having to be on stage in just a few minutes...
but you would never know it. A beautiful soul as unpretentious and gracious as can be.

daniel, nicko, and bryan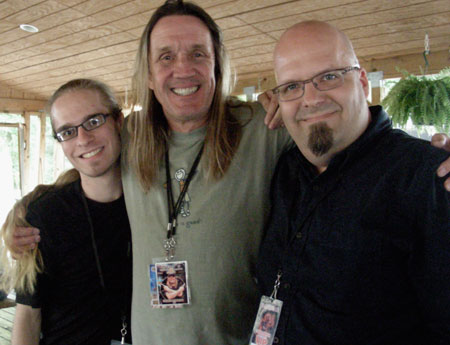 As we walk into the venue and take our seats I can't help but analyze the subculture that surrounds us. Since I am not really a "fan" I sort of sit outside of the experience. Like anyone that is passionate about their thing whether it is a sports team, or another collective event, these people are clearly excited about what is about to happen. Some have flown from other countries to be here, and I am again feeling a little undeserving of the seats Nicko so graciously gave us. After all we came to chat with Nicko, not really see the concert. It is interesting to see some that are here to relive a moment that captured them two decades ago, and others who are new to the "maiden family" too young to have been around at the beginning of the band, but love the music now. We watch as Eddie, the larger than life ghoulish mascot traipse through history via the various album covers from british soldier to pharaoh. As the sets change and the band takes on their rocker poses as they play, I have to laugh at them pursing their lips like super-models...
the fans love it.
Clearly the band does too. They are not only great musicians but the genuinely love what they are doing, and are so in sinc with each other that it is obvious that they have been together for years. What little you can see of Nicko behind the drums is nothing but a blur, except when he pops up from behind with that big smile.
I remember years ago when Bryan and he were meeting to discuss all things spiritual. Being a new believer there was some discussion about the life of a heavy metal rock star possibly coming into conflict with being a follower of Jesus. What does it mean to be transformed? Some might be quickly and self-righteously offended by the ghoulish image of "eddie". To my husband's credit, he was not and instead encouraged Nicko to be the "salt and light" within "the world" that he lived in, rather than to quit, an arguably easier road.
What does it mean to be a witness? What does it mean to speak the language of the culture?
Nicko is not shy about his Christian-ness, and if any fan were to ask they might get an earful.
Let those who have ears let them hear.
And as for what to do with Edward the Head, I remember Nicko saying years ago in that accent of his...
"It's all in good fun, you know, big Eddie the head".

our friend jeff, daniel, bryan and me sitting in row "k"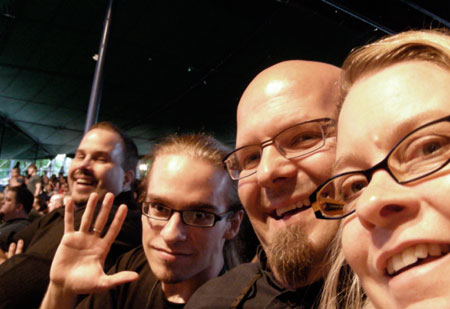 nicko sits very low behind the set. you can just see his leg back there playing the kick drum barefoot. the little stuffed eddie the pharaoh bear perched on the kick drum.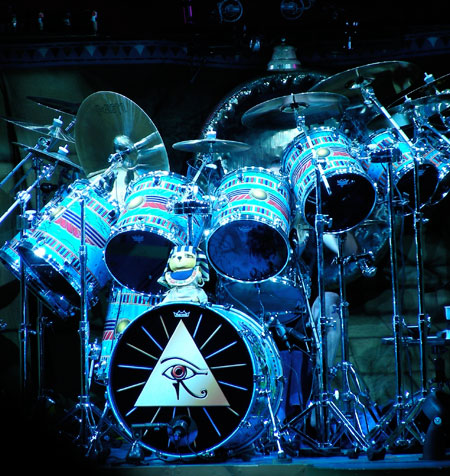 nicko standing behind his drums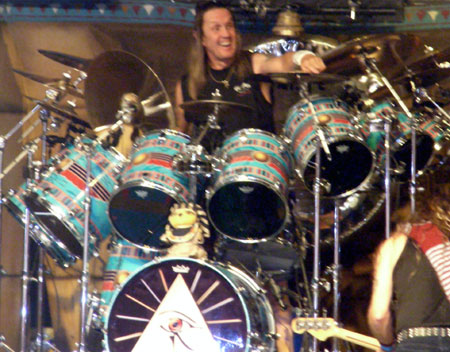 the band pursing their lips under a large Eddie the Head dressed as a british soldier with flag.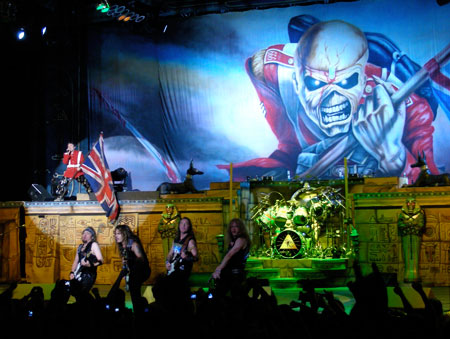 the crowd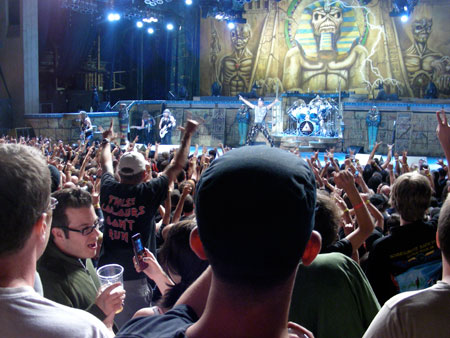 lead singer with golden eddie sarcophagus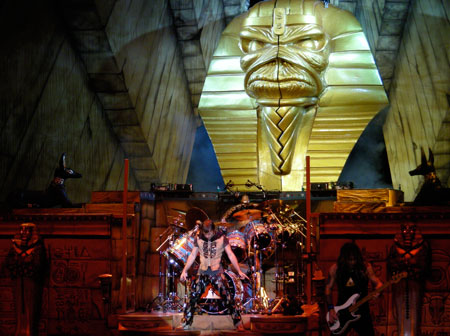 nicko throwing his drumsticks to a hopeful crowd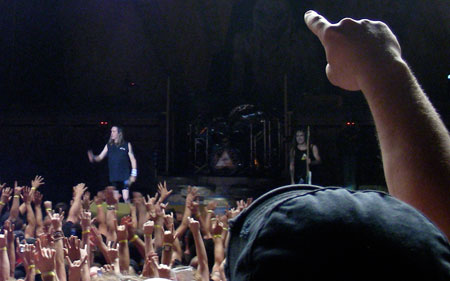 And I had to go rummaging for some older photos... blasts from the past...
in Jan 2004, bryan, adam young, and nicko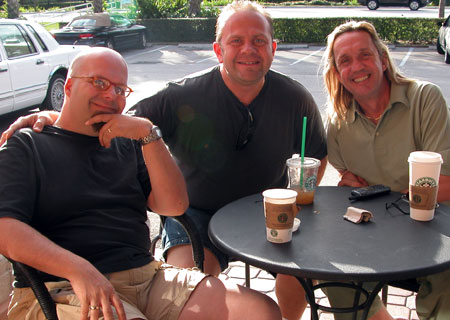 back in 2000, the krives, the andersons, and the mcbrains.