This weekend we took a much needed art break and jumped on the metro and headed for DC's Artomatic.
This unique event is inspiring on so many levels. It is a co-op type show that hosts a variety of artists every year in an unused, partially constructed, or warehouse type building that is different every year.
It was great to take in some of DC's best and worst art I had ever seen. Yea, that is the great thing about artomatic, the venue for emerging artists.
As we wandered the halls I was struck by a number of installations one of which was this ceramics installation of small symbolic books. Upon reading the artist statement I discovered that the collection was a result of the artist staying in a residency, and meeting a poet there was inspired to do this piece.
What a great reminder that our Exnihilo retreat could do some good.
Seeing these pieces made me so happy.

Bryan considering sculpture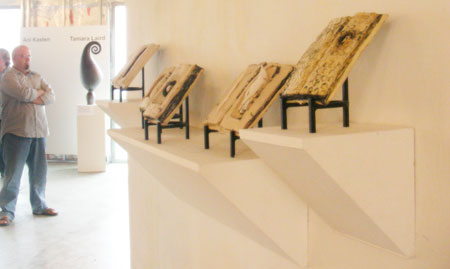 Bryan and Daniel at Artomatic