Upon rereading this post I insert a warning that it is a real meanderings of thought which further demonstrates how scattered I am right now. Backposts of our trip to follow.
Today I am 43. After arriving home after midnight on thanksgiving eve, celebrating thanksgiving, and then taking the next day to basically unpack, I find myself at today amidst the mess that is what was left of our house and my studio in the wake of preparing for a conference and extended trip.
can you say, psychological whiplash?
What would normally be a day of introspection and reflection and projection toward the next year of my life has been replaced with the basic desire to clean up the mess.
In the last post I expressed that our avp show went well, in truth it was just o.k. A few new opportunities were the real fruit, but the original goal of more subscribers came up woefully short for the expense of the show and all the advertising. Other vendors that had exhibited previously complained that this show was not as good because of the new location being a new building far removed from the normal foot traffic. But I knew going in that it was going to be a bit of a calculated risk, but with many unknowns. So my expectations weren't high, but hopeful.
ah well, live and learn.
At least I may get a book deal out of the deal.
But I was again reminded of how much big business there is in the church business. In fact the first day in which we set up the show I felt like running away screaming. Especially when the booth next to ours cost the vendors fifty thousand dollars.(they were pretty proud of their business success)
In contrast our little display fit into a golf bag and a suitcase and took approximately 20 minutes to set up. Nonetheless, we still managed to look pretty professional even on a shoestring. And I would have a serious crisis of conscience spending oodles of dough on something that didn't either feed, clothe or directly help someone, and you can't eat a booth display. (but our promotional t-shirts ended up in an unexpected place that could never have been planned or predicted)
I was grateful however, that the unconventional multiface image that I chose for our booth banner, advertising, t-shirts, etc. was what seemed to attract attention, even enough to prompt an interview from Rev magazine.
And there were glimpses of real ministry in the buzz and whirl of the business. A woman approached us admiring our t-shirts said that she lead a group that helped to transition young women out of prison into a new life by giving them a place to stay, a stable job all while giving them the tools not to go back to their addict boyfriends, abusive fathers, or whatever evils lead them to prison in the first place. It later became clear to me when no subscribers were materializing (to get a free t-shirt) that no one would appreciate our t-shirts more than her and her girls, so that is where the whole lot of them went.
So, in a nutshell...
lots of conversation
one interview,
three potential publishers for "art for worship basics"
reconnected potential partnerships
and one annionting with oil (another post)
All in all an interesting foray into what has become an industry of outreach. Lot's of good people doing their best to do what they think is important or morally right in a world that pivots on a pinhead of commercialism. It is a bag full of paradox.
and now I am home.
our show display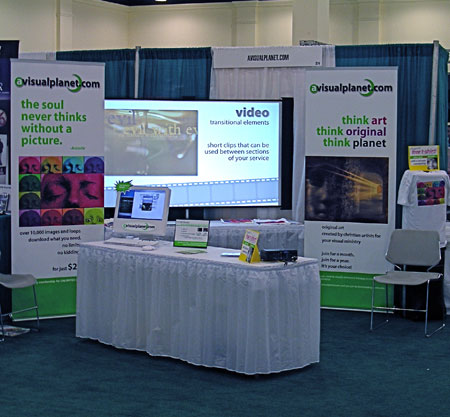 display packed