On any given saturday in dc you may encounter a festival and a protest. This saturday was no exception. The national bookfair was on one end of the mall while an antiwar protest was at the other. We were headed for one of the smithsonian museums. The National Museum of the American Indian.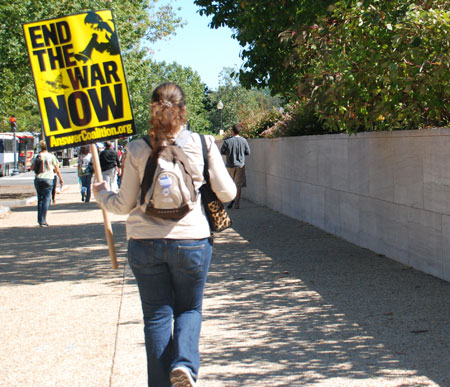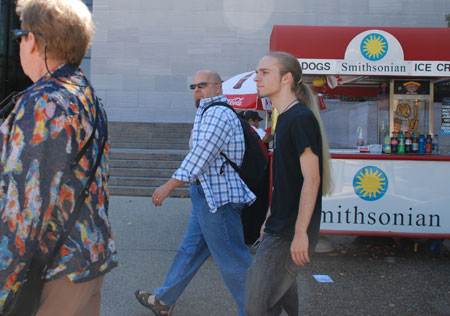 I am always inspired when we go downtown, and this museum is a favorite. The new exhibit this time was an installation of dresses called Identity by Design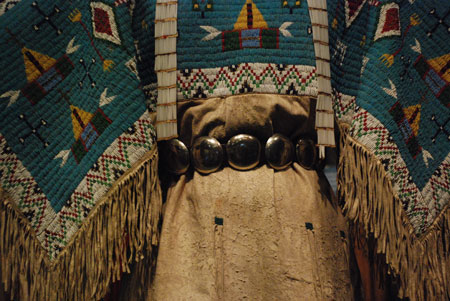 Check out the link if you want a walk through. The web version of the exhibit is just as inspiring as the real life (without the crowds). The main thing that struck me about this presentation as well as the museum is the value of being tied to a heritage. While looking at one of the displays, standing next to Bryan, I leaned into him and said, "What is the contemporary american's equivelant to a right of passage."?
All I could think of was getting your driver's license.
Doesn't it seem that cultures that are able to hold on to their heritage seem to have a rich sense of family, community, and grounding? Sometimes I wonder if some of the components of the "american dream", have stripped us of some of our richness in order to be rich.
One display in particular talked about a tribal practice of government(I don't remember which tribe, shame on me) that when making decisions of consequence, the elders always considered the ramifications of their decisions thinking forward to seven generations.
Wow.
What if we did that? Would our decisions become less self serving? Would we pass on wisdom?
Hmmm....
Leaving the museum with lots to think about we made the trek back to the metro.

gladys on the mall