This last weekend we took another stab at our backyard "project". Right now that word just seems way too small for what we are tackling. And yes I can see you shaking your head as you view these pictures, and I can read your mind as you think...
they are crazy.
yup.
Today I will totally agree and shake my head right along with you. Because we are at that awful stage...
the middle.
You know the middle. It can be any project, but bigger ones it is more pronounced but either way when you hit it you may hear that sound, like the grinding of gears coming to a halt.
The middle is that desert of motivation. You spent all of that on the inspiring idea, and all it took to get the thing going, but now the momentum has stopped and it feels as if you are stalled. The middle is also far away enough from the end that if there is light at the end of the tunnel you don't see it because you are busy looking at your feet.
Or in our case a whole lot of dirt.
As we sat down by our pool in one of our many water breaks, looking up at the would be wall, I tried to remember that the scope of this project and its labor is in direct proportion to how great it is going to look when it is done.
ha.

A few weekends ago Bryan actually finished this first corner wall which was a challenge. This is the wall that he worked on with his dad. And seeing this helps us remember why we started this in the first place.
before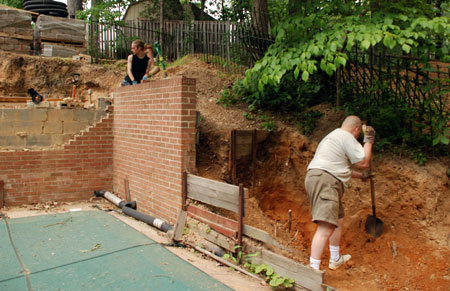 after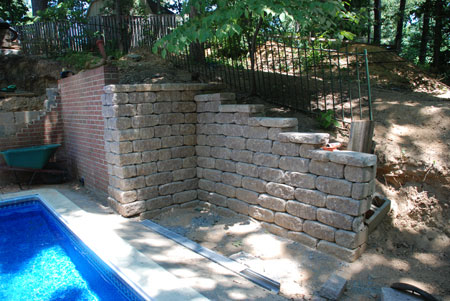 When we bought this house that had "good bones" we also inherited some failed systems like the big brick retaining wall. This side section was a particular eye sore having been rotting wood held up by steel rods. That was holding the dirt back from falling into the pool, and as you can imagine, not only did appear in disrepair, it didn't work. So now we have the spiffy new corner wall.
Onto the big one.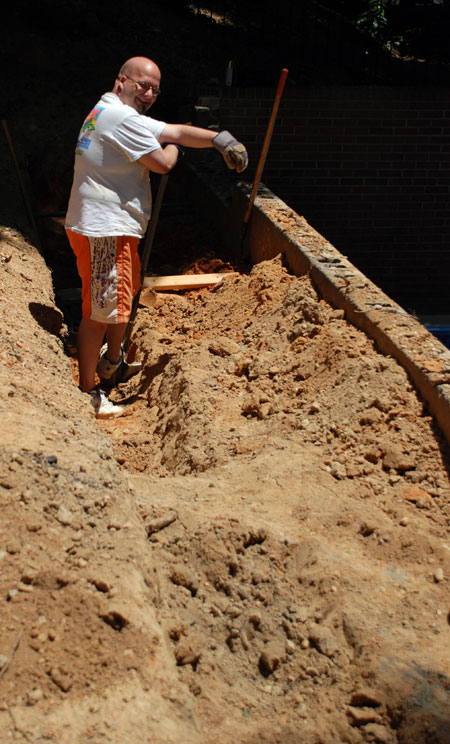 The plan is to terrace it in three sections using the stone for the upper two and stuccoing the exiting brick wall. The front wall that used to be six foot high, will be three feet and stuccoed. That is the plan anyway. The stone we are using is Versa-loc mosaic. It is pretty cool.
The most disheartening part of the process is moving dirt away from where the center wall has to be built, only to bring the dirt back again for back fill. And although our property is visually more interesting because of the slope, it makes for a real challenge when your are hauling wheelbarrows full of dirt up hill.
digging the trench for the center footer
The only reason I am in this shot is because Bryan grabbed the camera when I actually had a shovel in my hand. Most of my job was hauling the dirt away. Bryan has been heroically doing the lion's share of the digging.
Hey, he has bigger forearms than me.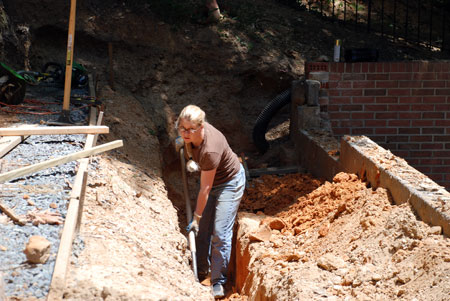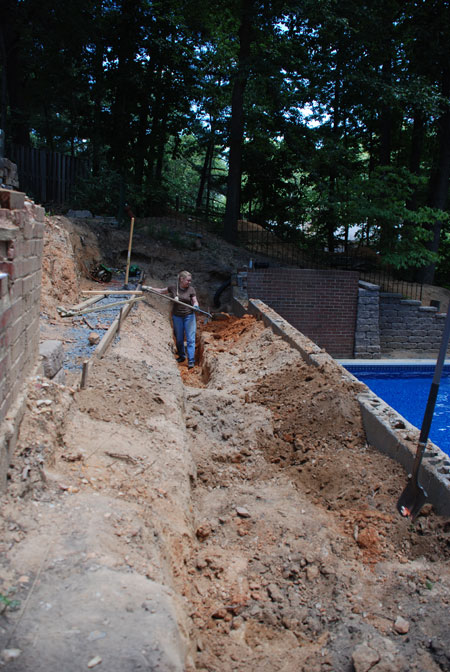 I have to laugh thinking about how we started out the morning. Laying in bed with the tv on trying to muster the energy to dig some more, we watched a few of those diy shows where some unsuspecting couple lets a team of tv people come and redesign their yard involving them in the process. So what you see when you watch is this amazing amount of progress from seemingly a handful of people. What you don't see is the crew of laborers that jump into action when the cameras are off. So we watched a few of these shows and laughed at "those people".
Then we went out to dig.
One thing I suggest for anyone trying something this large is not to say on a given day, "this is how much we are going to get done". It might be too much and that might get discouraging. Being stuck in the middle this weekend, we had hopes of at least having the trench dug.
Hmmm.... it was a bit much to shoot for.
Anyway, I do hope that by the end of the summer we have the walls done. Unrealistic?
Maybe.