I spotted Lesa through frosted glass that divided international arrivals with Mexico. Her and her group were making their way through customs. After they got to my side there were general introductions, and then we began rolling our luggage through the airport, stopping for a brief lunch. Boarding a bus we embarked on a four hour ride taking us from Mexico City through the mountains to Cordoba.
Her "group" is a women's group and they are from texas. Their mission was to put on a "women's conference" for the women in that region. Partnering with a small private seminary, who's students would be involved in pulling off the details of this event, they brought the theme, content, structure, and even crafts.
I was simply going to take pictures.
Or so I thought.
After the bus ride we were shown our sleeping arrangements. Eight of us to a room with bunk beds, two toilets, and a shower.
If I didn't know this group before, I sure would by the end of the trip.
We settled in and were off for the evening meal in the seminaries dining hall.
Here are the students praying over the meal.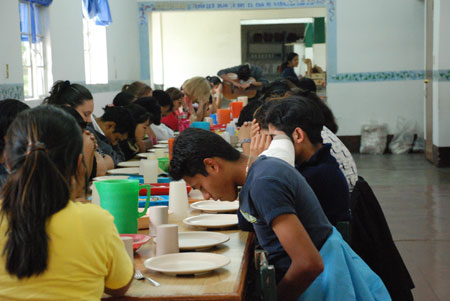 The school is free but the students apply and are chosen to be here. When they aren't studying (which seems like all the time) they keep the place going. They do the cooking, the cleaning, the maintenance, the laundry...
you get the idea.
They come here to learn the gospel in order to take it back to their communities.

shot from the bus