DAY 25 TUESDAY JULY 19
In order to get the most out of ancient rome we decided to hire a guide. What really happened is we booked a small group tour (under 15people) that promised "art historian" tour guides. Tuesday morning our little bus arrives and we are met by Grace, our highly educated, roman born tour guide, and nobody else. Our great fortune was that we had Grace all to ourselves, as she put it, "today, I am for you". This was great for the moments when we had to pause for filming. Extremely animated and excited about her city's history, she led us through rome's ruins.
Grace starts us off AT THE BEGINNING with the legendary founding of rome by Romulus on the Palatine Hill. We speed through a history lesson of Republican Rome (510 BC) with its glorious senate. Here we stand near the ruins of Domitian's palace (AD 81-96). As we walk through these ancient marble bone yards, Grace points out the remanants of the colorful marble floors (she splashes water on them to bring out the color) and tells us how they were imported from around the world to build these palaces.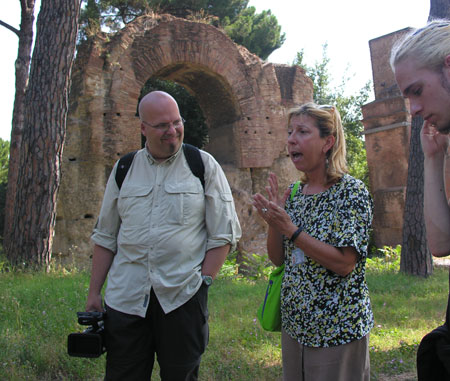 It is kinda wierd walking around in what feels like an abandoned park with chunks of ancient palace just laying around for one to touch or sit on.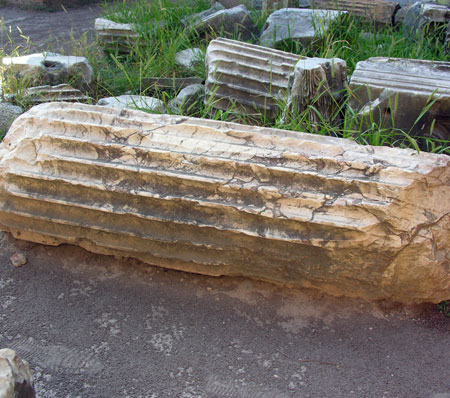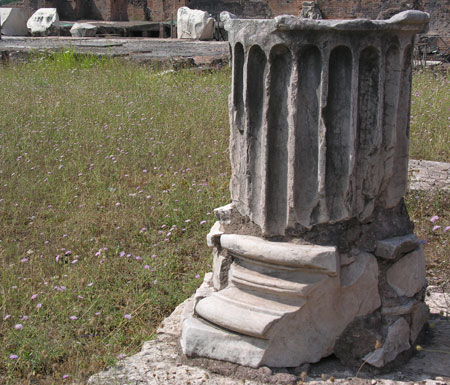 She goes onto explain how this same marble was taken for parts to build churches when rome goes from imperial, to autocratic, to papal. It was amazing(and a bit disturbing) to think that the beautiful carved marble and inlaid floors that we had seen the day before in St. Peter's had been taken from the spot that we were now standing. These palaces had been dismantled piece by piece to build churches all over rome. I had a sudden flashback of a trip to the yucatan several years ago, seeing churches that had been built from stones stolen from Mayan temples.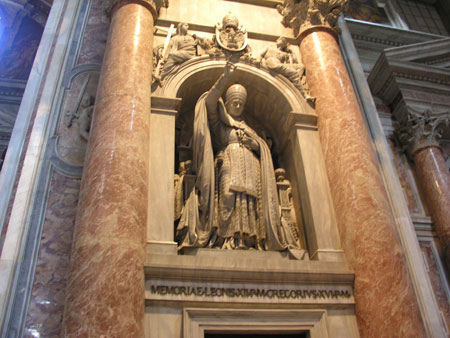 Here is Bryan with our guide Grace.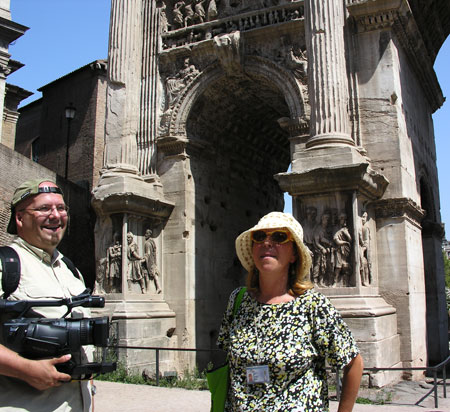 Hiring a guide was a very good thing. Grace had some tricks and also the clout to jump past hours of lines (especially at the colosseum) so that we could get the most out of our day.
Inside the colosseum.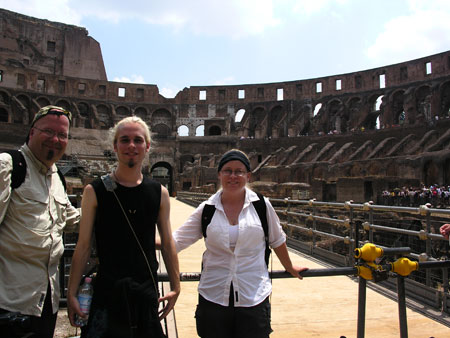 We learn that although Christians were persecuted under Nero's reign (54-64) no Christians were ever martyred in the colosseum. It's construction didn't start until 72. Christians were executed elsewhere, but not due to their religious beliefs but because they practiced pacifism and refused to fight in the imperial army. These draft-dodgers were never fed to the lions in the colesseum during the games, but were beheaded (apparently the proper form of execution at this time) for being disobedient to the law. Just like the palace marble, part of the colesseum was destroyed for building materials as well. This was stopped by Benedict XIV in 18C proclaiming it a monument to christian martyrs (which is where that idea apparently comes from). Grace explains to us that most likely that under Nero's reign the property in which the colesseum was built upon had been residential, possibly christian. This community was burned to the ground for political reasons but later made a convenient monument for Benedict. Grace made it clear that the romans did not like Nero.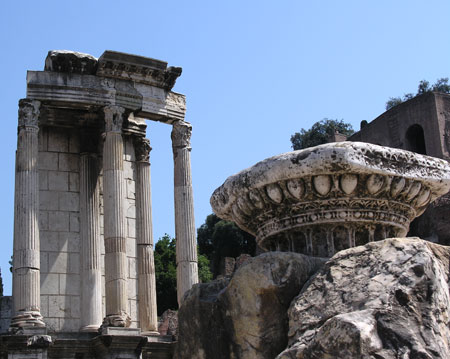 Just up the hill along the "sacred way" is the capitol square. Another building designed by Michelangelo with a statue of Marcus Aurelius at its centre.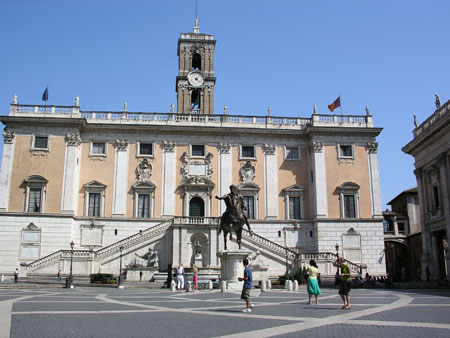 It is at this point where Grace is going to show us into the Capitolini museum with all its treasures. But under no circumstances will they allow us to take our daypacks in. Instead there is a bag check room. Although it seems perfecty safe, we have been pretty lucky with theft so far with only one stolen camera, and I opt for not tempting the odds. I stay outside in the square with our gear while the guys go into the museum. My brain is about to explode at this point anyway and I could use a break.
After they guys emerge from the museum Grace shows us "the wedding cake" and our tour ends.