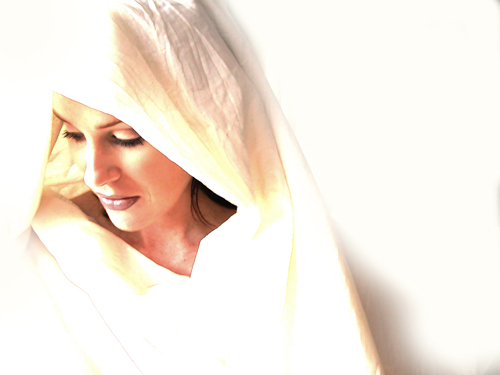 Today I am contemplating mary. Preparing for christmas I am working on a series of images that will include the praise that mary gives to god on greeting elizabeth (Luke 1:46-55). Bryan informed me last night that this "speech" is called the Magnificat. So I googled this to find out more and it is called that because of the Latin translation of the first phrase in the text ("Magnificat anima mea, Dominum", (My soul doth magnify the Lord). Anyway, it is also called the Canticle or Song of Mary. So I learned something.
The source photos I shot to create the series are of a friend, Heather Holt.
Heather is too beautiful for what I think mary would have looked like, but who knows. So what I have is a more romanticized, somewhat "american" version of mary which normally I would try to avoid, but I was still somehwat compelled to use this image of heather. My hope is that the mood is right and that the general message of mary's grace is conveyed through this image.
Luke 1:46-55
My soul glorifies the Lord
47 and my spirit rejoices in God my Saviour,
48 for he has been mindful of the humble state of his servant. From now on all generations will call me blessed,
49 for the Mighty One has done great things for me--holy is his name.
50 His mercy extends to those who fear him, from generation to generation.
51 He has performed mighty deeds with his arm; he has scattered those who are proud in their inmost thoughts.
52 He has brought down rulers from their thrones but has lifted up the humble.
53 He has filled the hungry with good things but has sent the rich away empty.
54 He has helped his servant Israel, remembering to be merciful
55 to Abraham and his descendants for ever, even as he said to our fathers.