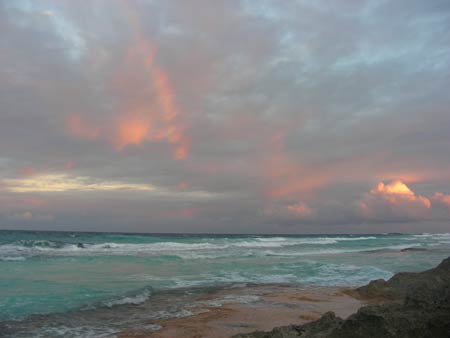 This week marks the first anniversary of SilverWorks, and it has been a wild ride. Roughly 150 students have taken a class, a workshop, or spent time in open studio. The gallery has seen numerous visitors and gracious patrons. I had a great show in July thanks to the good folk at Glen Echo Park and their Gallery, and have been granted another in the new year.The studio has become a great place for folks to come and discover their creative selves, explore their work in an inviting environment, and get inspired by fellow artists on a similar journey.
Shades of Exnihilo.
No, our Bahamas dream hasn't faded away. Far from it. As I put my nose to the grindstone last year it was with a whisper that SilverWorks would some how play a part. It was clear after the economy hit everyone so hard (including us) that there would be no way to begin our building plans within the timetable I originally imagined. After so much concept, research, buying of the land, and a year of getting the designs of the facilities just right, and up to rigorous code (hurricane wind potential), we had to put on the brakes.
That was excruciating.
Like getting some sort of psychological whiplash or stopping a boulder rolling down hill with brick wall, the momentum of the thing made it painful to set it aside out of necessity, and just sit...
and be content.
That was the hard part. Finding contentment in that void.
A cosmic door had shut and I was left contemplating what was to do next. Up to this point the steps had been clear.
What was also clear was that I needed a new source of income. Life transitions, Daniel moving out, my art progressing... there were a few sign posts that pointed to the studio. But it meant such a shift in gears and starting a whole new business, that once the decision was made, I was still extremely nervous about the success. But the studio door was open and I walked through it. And once you walk through a door like that there is no turning back. Like everything else Bryan and I threw ourselves into it completely. Designing the space, constructing it on the cheap, dusting off my teaching skills and my class curriculum, creating promo material, website, and all the rest around a loosely written business plan, was all like drinking from a fire hose.
Once invested it was all about hard work and putting myself in one of the most extraverted position I have been in in my life. Working long hours and fighting traffic, and weather... all wondering if Exnihilo was going to fade into nothingness.(ironic)
But I started to notice something wonderful.
Things and people were (and are) being revealed through SilverWorks. I marvel at the people that walk through my door that become my students and friends. Lawyers, scientists, authors, sculptors, activists, embassy folk (haiti, and the Bahamas) and others, and that doesn't even included the other artists' studios in the park and the folk that I have made friends with.
Like a giant pile of puzzle pieces started shifting themselves into position.
And in the last few months there have been whispers in the wind of holding Exnihilo loosely...
in the form of a non-profit.
That whisper in the wind is a voice I have heard before. It comes with a familiar feeling of fire in the belly.