It may be gushy and annoying, and maybe even unbelievable, but Bry and I do not do well when we are apart. We don't sleep well, we don't function well, and we just miss each other terribly. And recently he was assigned to do some traveling for work that required him to be gone for a few days and back a few and then gone again. Five of these trips all while I was setting up my new studio was pretty intense and stressful. When he came home sunday night only to leave agin monday we decided...
enough is enough.
And since this last trip was by train I jumped on with him.
Besides, I have been working non-stop and finished my first class on saturday. I have not taken a day off other than thanksgiving, and even that weekend was spent working.
time to play a little hooky.
in philly.
Turns out Amtrak is a wonderful thing. And it is stress free compared to all the wasted time spent preparing and going through security for the "time saver that is air travel". After buying a ticket on a whim, and boarding within minutes, luggage in hand without being scanned, puffed with air, or cavity searched, I am totally sold on train travel.
Stealing away a little time like dinner, breakfast, and maybe even a few hours sight seeing before his gig, Bryan and I are playing hooky.
a very cool market... a section just for cheese... need I say more?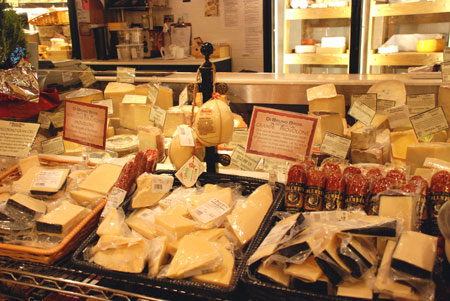 dinner at the continental... yea.