Sunday morning we have some construction at home before making the trek to the studio. The large butcherblock countertops need to be cut in half and we need to make pedestals for the cabinets (2x3s). Bryan begins this task and I head toward the hardware store for more paint, glue, and some other misc stuff. Painting the legs once he has them assembled, we hope to be in the car by noon. I am steering clear of the countertops until they are cut down. I made the mistake of not doing this and employed Daniel to help me unload them from the car last week, only to take a nasty tumble and landing flat on my face on top of one. Like getting hit in the face with a board, I ended up with a fat lip and a reminder that my less than five foot stature may not allow me to do such heavy lifting.
Darn it.
But it also reminds me how lucky I am to have a husband who gets into this kind of project, and can lift heavy items.
By noon we are in the car with a load of wood. It is pouring rain which is a bit of a drag. Getting to Glen Echo we unload everything in the 20 minute loading zone. I go to move the car and look down at the front right tire...
flat.
crap.
Again... Bryan to the rescue.
Hey, at least the sun came out!
More assembling. We put together two of the stools that I picked out to check the height for workability. Because the space is only eight feet wide, holding a class in here would be tricky if we used conventional cabinets which are 24 inches deep. So I opted for twelve inch deep wall cabinets to support a 13 inch deep counter. Each work station has about thirty inches of width which once we set it up and tested it, proved to be very comfortable. It is going to be a very efficient use of the space.
While Bryan finished the cabinets, I started to work on the office area which is on the other end of the studio. It will be slightly hidden by a large display case which will act as a room divider.
By five o clock we were exhausted.
Cabinets with butcherblock counter tops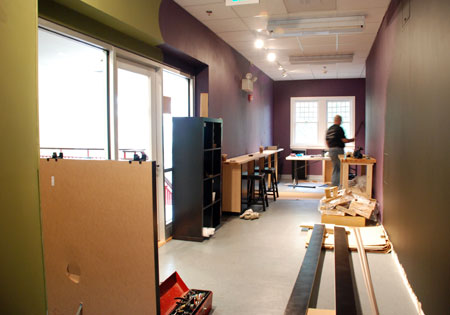 Bryan putting on the spare.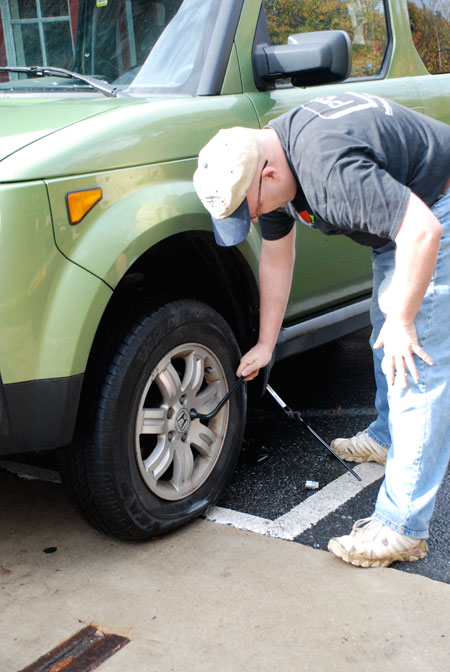 The space is coming along.