Thanks so much to friends Phil and Karen for thinking of us and giving us tickets to a little piece of history...
seeing Paul McCartney live.
And it was like walking through history as his song list reflected so much of the last four+ decades.
And he did not disappoint.
I did however find myself reflecting on how much a person can impact their world with artistic expression, for some in great degree. Paul McCartney had reflected his world and all its highs and lows, peace and turmoil, throughout his musical career, and his personal life. I was so grateful to see his exuberance come across on stage, not as a pop icon, but as a real musician communicating with and reflecting back, his audience. It was hard to believe that he is 67, but I have to admit that he appeared older at the beginning of the concert. I could swear that he got younger and more energetic as the concert went along. Maybe it was just the going back in time as the bulk of Beatles tunes was at the end, and it was hard not to picture him in that era as he played those songs. It was also interesting to find out that the Beatles' first gig in the US was here in DC.
And now I get to feel like the family bookend to my sister who actually saw the Beatles live in Indianapolis.
His playlist was a grand mix of snipits of his career which defined the audience which was the broadest group of ages and styles I have ever seen in one stadium.
My favorite was Let it be, profoundly followed by Live and Let Die with complete (and unexpected) pyro effects that knocked this fan off her seat.
It was a well balanced concert complete with very heart felt tributes to both John Lennon and George Harrison. For me that punctuated how special this concert was, and how broad and successful a career Paul McCartney has had, and continues to have. I could analyze his life by pointing to the way he has lived it as an artist, "in balance". Having a long and true love and marriage (well the first one;-) hasn't hurt, and living as a Vegan and promoting safe practices in all the products that bare his name probably hasn't either...
enough analyzing...
it was a great concert.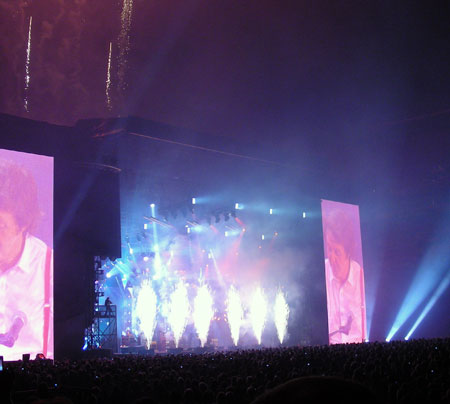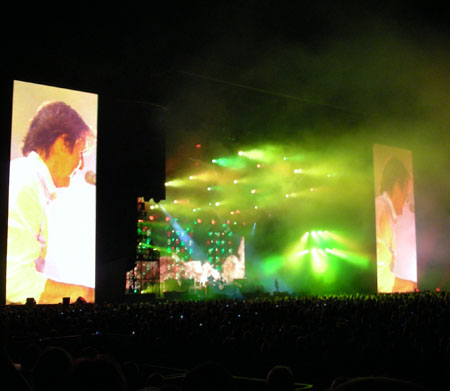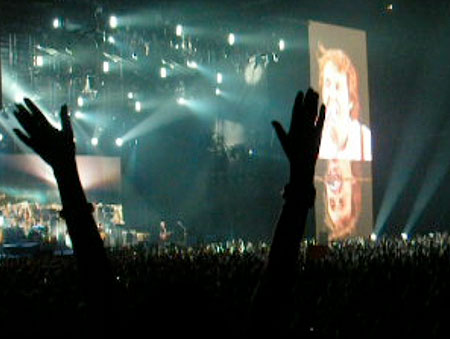 Play list:
01. Drive My Car
02. Jet
03. Only Mama Knows
04. Flaming Pie
05. Got to Get You Into My Life
06. Let Me Foll It/ Foxy Lady
07. Highway
08. The Long and Winding Road
09. My Love
10. Blackbird
11. Here Today
12. Dance Tonight
13. Calico Skies
14. Michelle
15. Mrs. Vandebilt
16. Eleanor Rigby
17. Sing the Changes
18. Band on the Run
19. Back in the USSR
20. I'm Down
21. Something
22. I've Got a Feeling (with extended jam)
23. Paperback Writer
24. A Day In the Life
25. Let It Be
26. Live and Let Die
27. Hey Jude
Encore #1
28. Day Tripper
29. Lady Madonna
30. I Saw Her Standing There
Encore #2
31. Yesterday
32. Helter Skelter
33. Get Back
34. Sgt Pepper reprise into The End