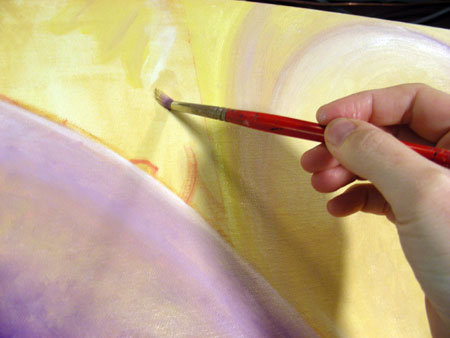 The next venue for my work will be the Gallery at the Children's National Medical Center. It's really great.

The exhibit is called Essential Elements. Although I am not sure the content I am bringing fits that title (maybe just a little) I do know that the hopeful nature of the content fits the venue. My one problem...
The show overlaps with artomatic by a week. Which means that the work hanging at artomatic will not be in it.
It is a nice problem to have really.
So I am pushing to finish a new piece so that I can have what I think is an acceptable number to represent a body of work. Seven large originals. I could scramble and have giclees of the ones not represented, matted and framed, but I really can't deal with that expense right now. So the seven will have to do.
Dancing in Thin Places
Sisterhood
Sacred Women of Sorrow
Kissed by the Sun (Son)
Finding Ones Self
Lifting Hope
oops that's six.
sigh,
I may be able to paint, but apparently I can't count.

Lifting Hope... still in process. I just hope the paint will be dry in time for next week.