Headed downtown to set up my space for Artomatic. All in all the day went pretty smoothly other than leaving late because we were waiting for my security hardware to arrive via ups. (little screws and bolts that prevent theft of the artwork) Opting to take the chance that there would be extra on site for us to purchase, we went ahead and took the work as well as the display. There wasn't but we decided to hang the work anyway hoping that the artists would be honest.
We will go back next week with the hardware, and the imac that fits in that void that you see in the pics. The imac will be a kiosk with an interactive display containing info and images of more work, bio, press, and other things hopefully of interest. With the difficult choice of what work to hang in such a limited 8'x8' space, Bryan came up with the brilliant idea of the kiosk. Of course us andersons always go to the nth degree with stuff like this so I was onboard with the idea in a flash. So I spent several days building what is essentially a website (that will never hit the web) for this display. With potentially 70,000 people expected to attend the event, I have the slightest hope of getting another gallery to take on the work, and the kiosk will help to represent the whole collection.
Hopefully it catches someone's attention.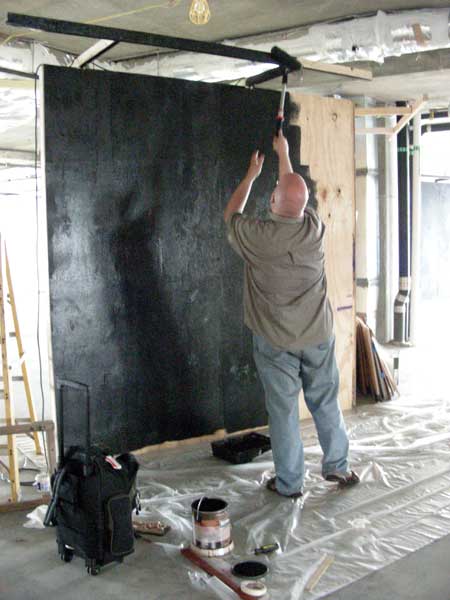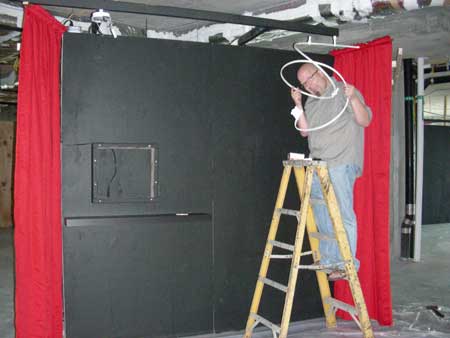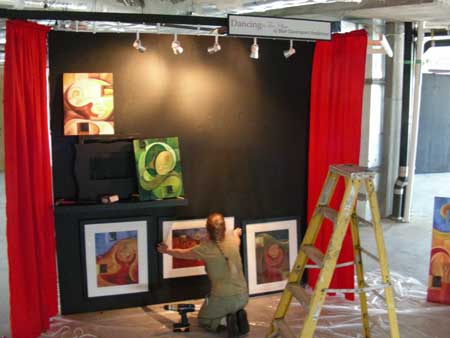 It appears as though my beloved did most of the work, and that is true. My biggest portion was painting the wall and measuring out the space, but he is my electrical/construction/encourager...well he wears many hats and my work would not see the light of day if it weren't for him.
After about four hours of sweat, and one parking ticket (which we are contesting due to conflicting signage) we went seeking food.
Always on the lookout for a good feed, Bryan discovered Granville Moore's. Set in a somewhat seedy part of DC inside an old brick walk-up that used to be a doctor's office is this fabulous place that serves Moule frites (mussels and fries). The chef of this place won a throw down against Bobby Flay, and is destined to be the next food tv celeb so you know the food is amazing. A pile of mussels is served swimming in a yummy broth for bread-sopping. I chose the blu cheese and spinach/bacon, and it did not disappoint. The big bowl is plopped in front of you on ancient timbers that make up the antique bar along with fries with tasty dipping sauce. Yum. Contrasting with the rustic old historic building, the humble food was amazing, and a perfect way to celebrate an artistic day.