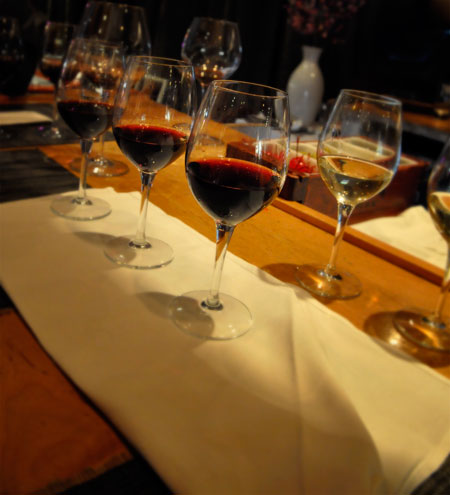 A very important day. 21 years ago my baby was born. The journey of life has many art forms along with many benchmarks. How do you celebrate this one?
Along our journey as a family we have chosen to respect certain "laws". While Bryan and I enjoy wine with dinner, we had been clear with Daniel that until you reach legal age in this country you cannot drink(in this country). When we traveled we followed the laws in those places. In Europe and in the Bahamas it was ok, and he was able to share in the privilege when we were there.
So what do you do as a parent when your son is exemplary about respecting those rules?
Without telling him where we were going or what we were doing with only the instruction of "wear something nice and make sure you have your ID", we started driving. What a weird thing to hear from your parents..."Make sure you have your ID".
We arrived at the desired destination... Grapeseed in Bethesda. It was kinda fun to see the look on Daniel's face as we were escorted up to the bar by the restaurants Sommelier, Ernie Brice.
We had arranged a formal wine tasting for Daniel's 21st birthday.
When I had phoned about the reservation and proposed Bryan's idea to the Sommelier, he was immediately on board. "What a great idea"! he said, and then went on to tell me what he would do. And Ernie did not disappoint. He covered everything from how to inspect the color, where the different flavors of the wine hits the different zones of the tongue, swirling it in the glass to oxygenate it, etc... etc.. Talking non stop about all things wine, he set up three flights of three different wines each going from grape to grape varietal and then threw in a few more unusual blends just to get our reactions.
As the restaurant got busier it was fun to see people regarding us with interest. What a great way to celebrate a milestone... learning to respect another art form. When you understand another person's art you are less likely to be cavalier with it, don't you think?
After the formal part of the lesson we moved to a table for dinner. Ernie brought all of our "tasters" over to our table. It was quite a sight being surrounded by wine and very fun trying to keep each one straight after comparing, sniffing, swirling, sipping, etc.
As we sat down to our table the waitress handed Daniel his menu and wished him happy birthday. They had even printed the greeting at the tops of our menus!
By the end of the night we had eaten a three course meal and sampled thirteen different wines and Ernie presented Daniel with a certificate for completing a wine course.
What a great night. What a terrific son. Happy Birthday Daniel!
Ernie showing how to compare color..." the original reason that restaurants have white table cloths".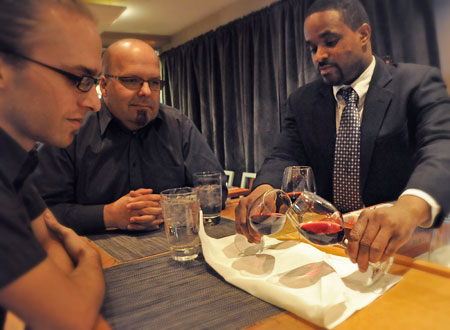 The swirl.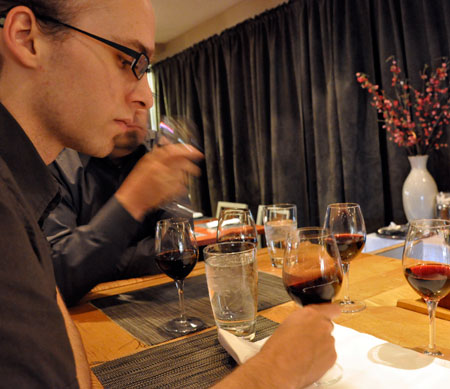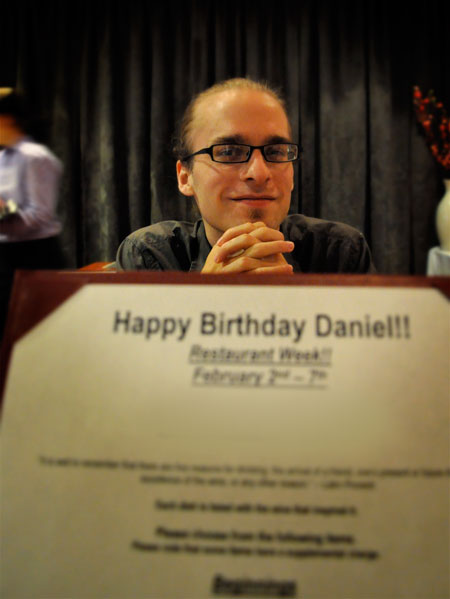 Fabulous food!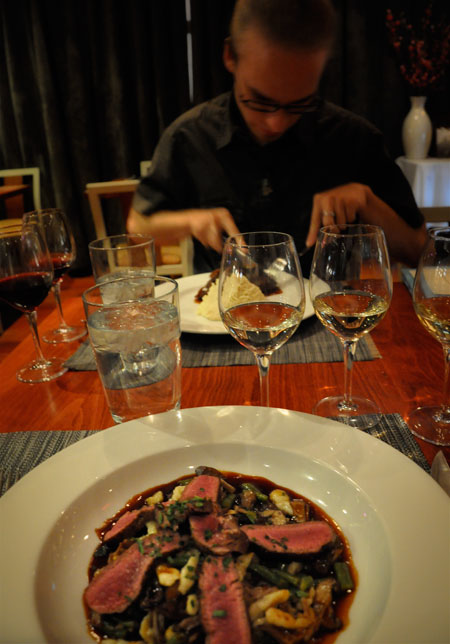 Ernie answering some final questions before we leave.