It may not be saving the world, curing cancer, or other uber-noble causes, but it is something that I am extremely passionate about...building a place where artists can come and get inspired and learn how to lead a balanced life, creatively, spiritually, and physically.
But there is so much to do to get there...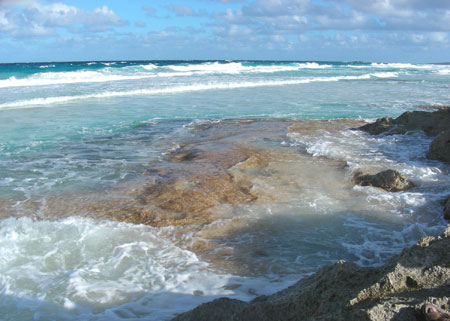 Our final quote came in on the cost of the first bungalow for the Artist Retreat, Exnihilo.
Hold your breath...
$57,600.00 (12,000. of that is just shipping to the Bahamas!)
Ok it may be a figure that prompts one to faint, but truthfully it is exactly as expected, so all is good. It is also only the cost of the shell, the insides and finishing goodies will be a little more for those materials, but we are doing all the work ourselves. What we didn't expect in our whole big dreamy plan to make this thing fly was that the economy would go south, taking a chunk of my existing income and our retirement funds with it.
bummer.
So, in the spirit of seeking help from others with the hopes of ultimately building this place to help others...
drum roll pleeeeze...
I give you the Exnihilo Bungalow building fund. (sidebar)
We have set the building fund at a rounded down 50,000 which is a ton to swallow, I know. But we will be updating it with proceeds from the sales of my work not just the donations of others. It is a monumental task to say the least...
MONDO BEYONDO.
So anyone who would love to help us build the first artist bungalow we would be thrilled to take any extra coin lying around. And I am not kidding, check under those sofa cushions and in that ashtray in your car, anything will do and will get us that much closer to making this thing real.
Oh, and anyone who donates $5 or more we will put your name in a draw for a free, one-week stay. Of course that won't happen until all is built... hopefully by our target date of April 2011.
Every little bit counts, and I will be making this annoying plea to anyone who will listen, and probably repeatedly.
Can you help with our MONDO BEYONDO?
That has been the nature of this whole big dream... unrealistic, and yet hopefully inspiring. From the first itch at the back of my brain, to scouting the land, to the very big step of actually BUYING the land, the process has had so many roadblocks to overcome. The highs and lows have been at the very ends of the spectrum from oodles of paperwork and arrogant civil servants that left me in tears, to the joy of planting our first coconut with Gen 1:1 written on it with a sharpy. Who knew where this journey would lead.
The original plan was to be selling our house at this juncture, but a couple of things slowed that down. The housing market hasn't done anyone any favors of late, and we even hit the reset button on Daniel's college education. A lot of discouraging factors that left me sleepless on some nights and mildly depressed on a lot of recent days. In the darkest moments the idea of shelving the whole thing even seemed like the more "realistic" thing to do.
Except for one thing...
The response to the dream has been overwhelming. Every person we tell lights up at the thought of an inspiring place to go to create. People don't need convincing. We have even had a number of fabulous friends (you know who you are!) express an interest in lending a hand in a good old fashioned barn raising on the island- yes helping us build.
And so we press forward.
What will the building of the first artist bungalow do for the whole big dream?
It will provide a home base for the development of the rest of the site, a place for us to stay when we are there working on the other buildings to follow, as well as storage. The complexities of freight to the Bahamas makes one prudent about storage.
It will provide us with a trial run of building these buildings using the first smaller one as a test before moving to the big building (Gathering House) hopefully curtailing potential problems. (yea, I am an INTJ).
It will allow us a finished model (of the rest of the bungalows) for photographing and creating the rest of the promotion material for the retreat as we move into the marketing phase. This will also help us with developing partnerships with other organizations and schools.
It will provide a little income as a vacation rental in the one season before the building of the big building ( which will go toward that building).
Our target was March to build, but now we set the date back to May or more probably December. June through November present possible weather challenges in the region (tropical storms, hurricanes).
Our Building fundraiser is set for ending in March. With your help we could meet our goal and be able to move forward.