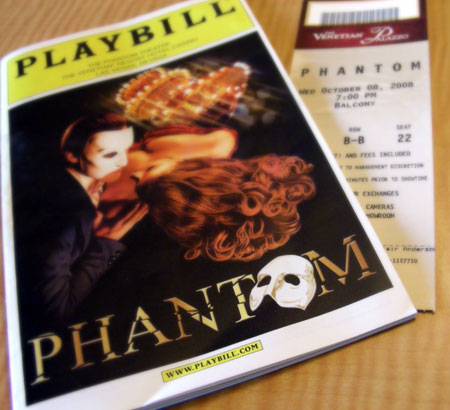 Last year we saw O, and this year would be Phantom. But it wouldn't be as smooth a day as I would have hoped. We had breakfast in the timeshare and chatted like schoolgirls until after three and then scrambled to get ready for the big night. I had experienced a brief panic the night before doing a double check of our reservations and seeing what I thought was the wrong date on the printout (meaning we had missed the show). I had arranged for the tickets and feared I had screwed up the date. So that night I phoned to confirm, talking to a real living person who took my confirmation number, my fears were put aside when she said..."You are all set for tomorrow night".
Phew.
So, after getting ready we walk to the spot where a town shuttle promises to make the rounds every eight minutes. The first bus being too full we wait for the second.
No bus.
Starting to get a little nervous as time gets short, all showing it in different ways (mom stepping off the curb looking for the bus threatening to get hit by oncoming traffic) we decide to opt for a taxi instead.
Good choice.
Lickety split we are in front of the Venetian where the Phantom is playing just in time to collect our tickets at will call.
Handing the printout of our confirmation to the clerk he takes it and ducks into a back room for a second only to emerge with...
"Are you aware these tickets were for last nights performance"?
My heart sank to my feet. Wanting everything to be perfect to celebrate Mom's b-day, this was a complete disaster. Apparently my panic the night before was justified, but why would they confirm it over the phone, I wondered.
Hoping for some way to salvage this...
"I called last night to confirm and the woman that I spoke to said it was tonight".
"Just a minute", and he disappeared back into the little room (at this point I am praying that someone is going to be nice, while still trying to figure out why they didn't tell us over the phone).
He comes back with, "We don't normally do this..." giving me a glimmer of hope that some concession would be made due to the miscommunication.
"Here are your options", He points to a seating chart of what is left. My heart still sinking but at least we are going to get in...
In my sweetest voice I can muster through my disappointment I say, "What would you suggest"?
Without skipping a beat he says, "Balcony".
"Great, thank you SO much" (in my mind I am a little confused because the balcony was what I originally wanted but it wasn't available when I ordered the tickets).
I am starting to feel a little relieved as he finishes by printing out the tickets.
"Here you are, I have put you in the Center Balcony, second row up, which is an upgrade of 30 dollars per ticket which I am not charging you."
God bless him.
Feeling very grateful and slightly stunned I take the tickets and thank him again. We are ushered to our seats overlooking the amazing set of the entire opera house with the stage and the big chandelier front and center.
The seats were amazing and better than what we had before.
The show was wonderful.
The little bit of stress was worth it.