Last weekend was all about friends, great food and inspiration that flows when creativity sparks creativity. Saturday Bryan roasted a chicken on our rotisserie while I made a salad for our new friend Angela who has been kind enough (and brave enough) to embark on a new project with me. We gathered for a brainstorming session after the food and after her gracious offer of giving me a private yoga session. Angela is a fabulous teacher and has a similar approach and spirit towards life. The evening was topped off with Bryan's lava cake and the impression that the meeting of the minds was a fruitful one. It is truly amazing to me what can happen in collaboration when all players are open to giving, learning, and willing to listen to their collective "gut". Good things to come from this. I will give more details and keep any interested reader posted once we get a little further into the project past the fragile state of conception.
Then sunday we were blessed with friends from Baltimore, Dan and Sue, and baby Rex. As you know this family doesn't entertain often, and when we do it is only the closest of friends or visiting family. The afternoon flew by in fun conversation spiced with Mojitos, a london broil topping a spinach gorganzola salad, and yes again...Bryan's lava cake. Daniel and his girlfriend Heather joined us too.
But we also did something a little different.
Five herb ice cream.
I know it sounds kinda like it has the potential for true ickyness, but I have to tell you this stuff is yummy. We (Bryan) bumped into the recipe years ago and we made it right then and never revisited it until now. With all my herbs at peak picking and the summer beginning to wane, it just made sense to give this another go. And it was fabulous. You use five herbs of your choice (and it can be anything) for the flavor.
This time we used Mint, Lavender, Basil, Rosemary, and Sage.
cooking the herbs into the custard before straining and putting into the icecream maker.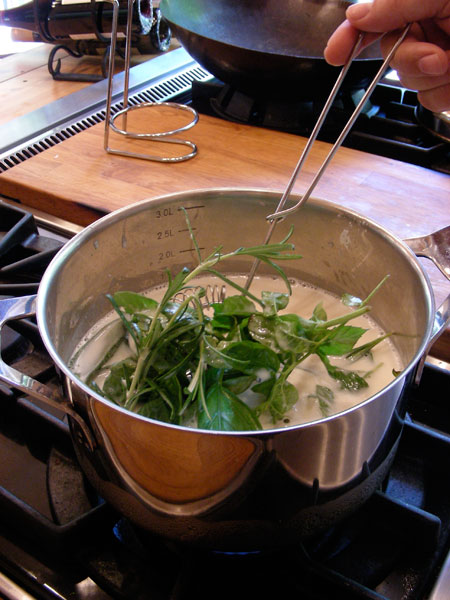 It is super easy to make and is a very refreshing and intriguing dessert. This little exercise launched me into another project...
The menu for Exnihilo.
Of course I think it is fitting that the first really confirmed "yes we must use this" recipe would be a dessert! Although I have been collecting bits and pieces here and there, this is the first one that landed in the big Exnihilo Proposal. ExPro is my giant scrivner document that acts as both a business plan and an ongoing repository for any ideas that are linked to the big dream. From food ideas to fundraising notions, to the hard core businessy type number stuff that one should have to make something this big fly. The Five Herb Ice Cream launched a whole new file... the Exnihilo Cook Book...Food for Inspiration ;-). I mentioned this to my husband as we were driving and he just laughed and then said...
"You don't stop", while lovingly shaking his head. Of course he was the one later that day(monday) to nearly force me to sign up for a glass fusion class because of the research value it would hold for...
you guessed it,
Exnihilo.
So we continually motivate and countermotivate one another ;-).