Thanks to the encouragement of my husband and the hovering ghost of a past mondo beyondo list item left undone, I am taking two days for my artist date this week and playing with glass. Although my ultimate goal is to some day take a glass blowing glass, the class that I am taking is a great entry point and will be another great addition to exnihilo.
Glass fusing.
The real work is understanding the nature of each kind of glass and learning methods of cutting it which turned out to be a piece of cake for me. Composition is the next issue, and color sense, but those are already in my tool kit... the cutting was new. It was perfect in it was not difficult, but still inspiring.
Like having a new toy.
Cutting.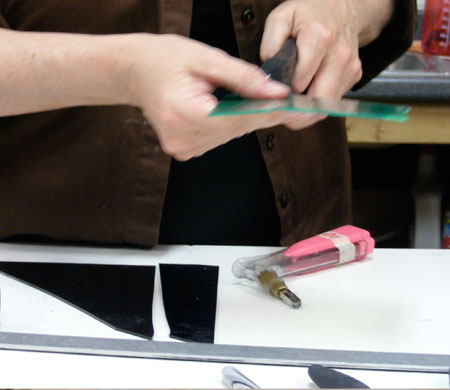 Cutting exercise, (straight lines, curves, circles, etc.) Of course the first thing I wanted to do was smash the glass to get a more "organic" look. In quizzing the teacher about this she showed me how to cut it to look like it was smashed. Next time I think I will try to smash it (maybe when she isn't looking).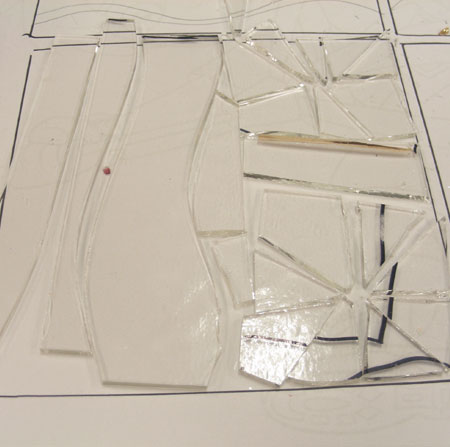 Colored glass cut and positioned for the composition.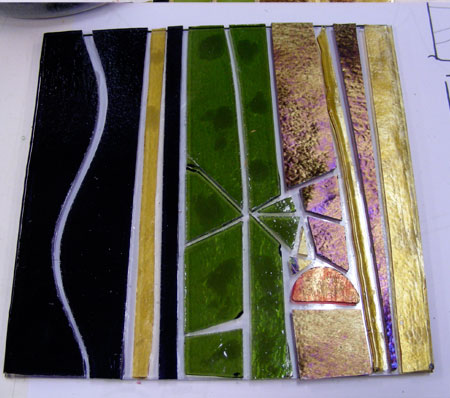 Adding Frit. The gaps are filled with a glass sand of various colors. I had planned on using black but the teacher said it wouldn't look good and more specifically the black frit behaved strangely. She preferred red. (Hey, I am just here to learn) So I compromised and used red in one spot and then a more neutral yellow tone elsewhere. (its my project after all!)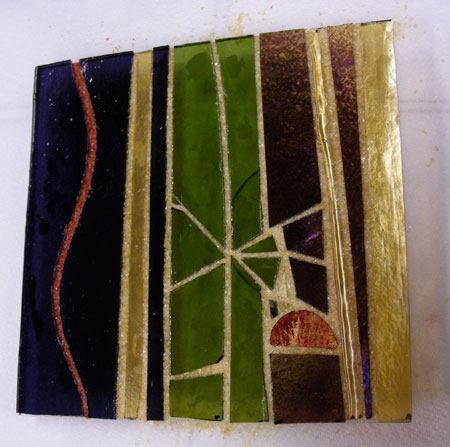 Ready for first firing. Tomorrow it will be put into a mold and fired again creating a little dish. What fun this is!