What is it like to see artists who are truly giants in their craft perform live?
Awe inspiring.
That is what we experienced last night at the RTF (Return to Forever) concert. It is one thing to hear each of these guys on various recordings over the years. It is something altogether different seeing them live... together.
Chick Corea
Al Di Meola
Stanley Clarke
Lenny White
The effortlessness of their performance comes only from a well honed skill, but the child-like way in which they played with each other comes from truly loving what you do.
I bought tickets for Bryan's birthday back in June and we have been looking forward to the concert since then. It was inspiring, amazing, and of course historic as they have not played together on tour in over 25 years.
The other thing that struck us was the graciousness and humility displayed by the players. Both in speaking about one another, and in their actions toward the audience, shaking hands with those at the front of the stage.
I am finding more and more examples of folk who seem to exude humility when they have truly earned the right(if anyone does) to be arrogant. It seems that if you are at the top of your game there is nothing left to posture about!
Stunning.

Bryan and I on the lawn at the concert. I decided to wear my beloved silver sunglasses and tie-dye silk. Can you say, "closet hippie"?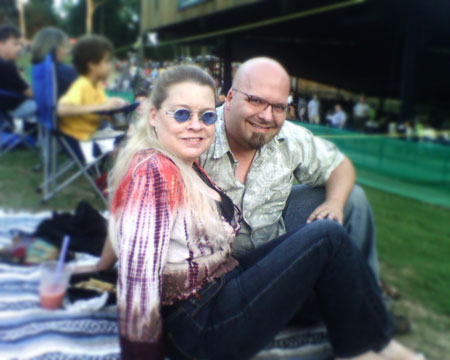 return to forever site:
http://www.return2forever.com/index.cfm