Our fourth weekend didn't look very patriotic. Part of the lack of fourth-like activity was due to the fact that last weekend we sort of covered it with Mike and Laurelle and the kids. After they left on tuesday morning (july 1st) I went back to bed and didn't get up until six that evening (its an introvert thang). So when this weekend rolled around neither Bryan or I were in a mood to do anything festival-ish. So we stayed home and worked on two projects.
Exnihilo designs, more specifically, the main building.
and...
the wall.
Exactly one year ago we were attacking that project and ran out of stone. The last few weeks the new stone has been sitting in our front yard begging to be placed. Between weather and lack of motivation it was really hard to get back onto this project, but Sunday we managed to get the wheels rolling again.
Yea we are crazy, i'll admit it. But we sure have fun.
Working in sketchup on the Exnihilo main building.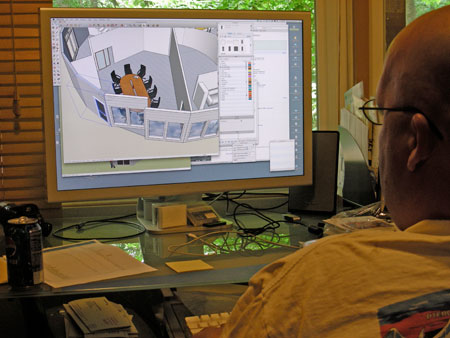 The beginnings of the second wall.