I woke this morning with the intention of honoring the artist date and stroke the muse and tend to my creative soul. Even though there is work of various kind and the thought of it dares to leave a threatening track through my brain causing distraction from what is truly necessary.
art.
I have resumed a winning schedule of balance that helps bring forth the muse. That being yoga, eating breakfast (yea it does make a difference, at least for me) and compartmentalizing tasks that can encroach if you let them. Truthfully the world and all its needs will always press, so it is up to the individual to make the space to allow amazing things to happen. It is important space and must be protected and nurtured.
Sometimes this space is where you find your truest self.
Remove the noise and the endless static, present your body as it is, a vessel that holds endless possibilities and light shines in.
At this stage in my life I can read what strikes the chords my heart better than before, but recognizing what thrills is not enough if there is no follow through. In fact, for a creative person the place right after inspiration can be the most fragile. In between inspiration and execution is where so many get lost. And a practiced soul may make it through the execution but then feel the depth of depletion on the other side.
Sometimes I fear that part.
After accomplishing a work you can feel as if a piece of you has broken off and blown away into the wind. It can be a painfully hollow place.
But there is potential for elation too and when you have poured out yourself into your art sometimes it pours something back.
Unravelling these things can be a challenge. Discovering the longings of your heart is first. But it is a romantic notion to think that it stops there. The true rewards come from following that longing to its fruition, pouring out the price brings something wonderful.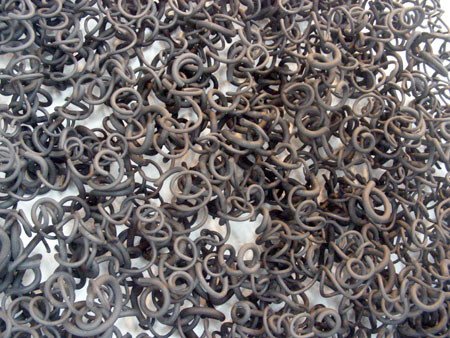 A ceramics installation at Artomatic. Hundreds of corkscrew-like shards attached to a white wall.
I had an interesting revelation looking at a series of pics I took at this installation. The craft makes me very happy. In fact that day, viewing the whole ceramics installation turned me on more that viewing the painted works.
Hmm...
Although my journey at this point involves painting primarily, it is harder, requires me to dig deeper, and exacts a greater emotional price than other creative work that I have done. The craft, working with my hands, whether with metal or clay holds a certain kind of ease. I am not sure if it is because it is a practiced skill and therefore flows more easily or if the content of a sculptural work (for me) leaves me less vulnerable.
not sure... just thinking it through.
A few days ago I inquired about a class at a local glass studio.
Again... the craft.
turns me on.
But today...
a blank canvas stares at me from the easel. Time to have a conversation with it.