A conference in downtown DC for Bryan sent the three of us downtown to go our various directions to then meet back for an art exhibit of our friend Luis Scotti at the Embassy of Uruguay.
Yea, it is kinda weird living in DC.
While Bryan went to his conference, Daniel and I tucked into a wifi cafe to do a little work... him prepping for a big job interview, me prepping for a cold call on a cultural center and financial institution that has a reputation for funding cultural and environmental projects in latin america and the caribbean. Collecting my promo material for Exnihilo I left Daniel at the cafe while I set out to walk the eight plus blocks to where I thought this place was. Although always directionally challenged when driving, I am much more comfortable finding my way when on foot holding a map. And I didn't have too much trouble finding this place.
I started in the "gallery" that hosts different displays of art and various projects that this institution funds. Hoping I might bump into someone with some insider info I struck out with only a lone security guard staring blankly at the wall.
I asked him anyway.
He directed me to the building next door.
What I was hoping for was a pleasant receptionist who would have all the answers whisking me into the right office with a smiling individual with drawers full of cash just begging for a project like ours to throw money at.
Ok, I admit I come from a Disney generation.
What I got was giant doors I could barely open with all my weight and once I got them open was greeted with a daunting security check point, a tower of elevators on the other side and a maze of departments of untold numbers that went up, and up and up.
This wasn't a place you could just saunter into. It was clear you needed to know where you were going and who you were going to speak to.
I had neither of those.
And the security guard at the door must have thought as much when he noticed me stuck two feet inside the door looking up with my mouth hanging open. He approached me and asked me where I would like to go.
"Cultural and Environmental Grants?", I choked. Giving me a very confused look he ushered me over to a counter with a number of other security people who may know more, and I repeated me request. Since I had no name of an individual they eyed me with suspicion, but one friendly lady wrote a number on a piece of paper and pointed to a lonely telephone over on the wall.
Feeling like I had just been exposed as some sort of impostor I walked over, sheepishly picked up the phone, dialed, and hoped for an angel at the other end.
I got voice mail.
I left a polite message with my number and hung up.
Who was I kidding.
Thanking the guard for his help I decided that maybe numerous phone calls and letters might bring more realistic results than a cold call.
I left.
Even though I had done copious amounts of research online, I apparently needed to do a little more, so I headed back to the cafe.
Eight blocks later I had blisters on the bottoms of my feet (picked the wrong shoes) and realized that my purse was gone.
Ok, the day wasn't going so good.
While checking my previous seat at the cafe while letting Daniel know of my situation a kind stranger overhearing my dismay let me know that my purse was hiding behind the counter.
Phew.
Ok... nothing major gained today, but at least nothing was lost.
Later we met up with Bryan to go to Luis's show. In spite of being the only non-spanish speaking people at the event, we were warmly welcomed by Luis and enjoyed a little wine from Uruguay while viewing his collection of hand printed works.
A great reminder that blisters and roadblocks are worth enduring.

Luis Scotti's work at the Embassy of Uruguay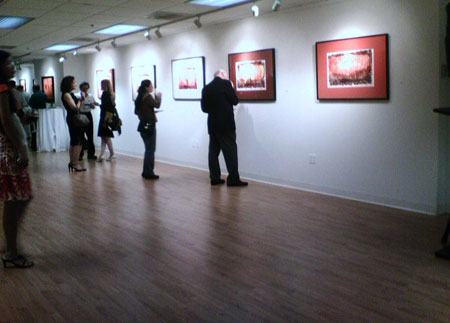 Daniel viewing some of Luis's work.