This is what it looks like when the three of us are all at home.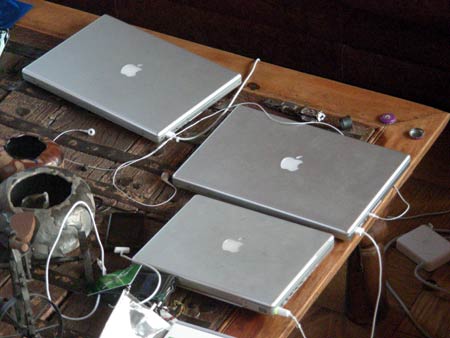 It was a wonderful break, but all good things....
well you know.
Daniel goes back to MICA. Classes start after the long weekend. Between the Christmas holiday and our time on the island, I think we are all rested and ready to tackle the new year. It was good to be together in this new stage of life. Navigating the nuances of being parents of an adult, wanting to act like teenagers ourselves and attempting to remain respectable parent figures in Daniel's presence was interesting. Interesting too was Daniel attempting to be "the good son" while exercising his individuality in the presence of adult/peers simultaneously with parents present. This became interesting when we were socializing on the island with other people staying at Pierre's. I guess the time has finally come...
it was bound to happen eventually...
it is uncool to travel with your parents.
But I guess as families go we handled it pretty well. Attempting to make space for each other when there was no space was tricky. It was impossible to avoid social overlap which created some tension when either Bryan and I said something that sounded parental. As much as I tried to be conscience of it I know I let things slip.
And even a compliment generated out of pride can sound wrong or condescending when spoken by a mother.
It can be embarrassing.
I know. Not until much later in life does one covet those compliments regardless of who is in the room.
Anyway... the stages of life and relationships are fun.
All in all the month long break was a good time.