The first day in port had us at Cabos San Lucas which probably has many fine features but because we had two whole days scheduled later in the trip as dive excursions we felt the need to balance out the trip by booking an inland excursion...
to Hotel Callifornia.
no, I am not kidding.... it isn't a glib joke, I am referring to the real Hotel Califormia.
It seemed like a novel idea and apparently the cruisline thought so too and is why it was included as a "shore excursion". Up in the desert, an hour plus busride away from the waters of Cabo brought us to Todos Santos the location for the famed spot that the Eagles creatively wrote into a hit song.
I learned that day that an important mantra when confronted with a travel choice involving a bus is...
"just say no".
But I didn't really learn this fully until it was really reinforced later in the trip (yes this means you have to read a later post).
What can I say, I am a slow learner. And apparently have a cockeyed optimism that thinks that the next time will be different.
This is how more experienced people become set in their ways...for good reason.
So... back to the trip...
Bumpety, bumpety on a dirt road in a bus as the beautiful coastline disappears in the distance behind us we head toward a small mexican village with the promise of artisans, history, an ancient church, and the famed, "Hotel California".
On the way, the narator, Armando Cortez regaled us with all the untrained trivia he could muster including the building of the new Wal-mart.
They are so proud of their walmarts.
hmmm.
So... for an hour and a half he talked of the terain, and other less interesting tidbits of the desert before we parked at our dusty destination, Todos Santos.
At this point while sitting in my cushy bus seat I was getting a sinking feeling that I would never get back the next eight hours spent on this excursion.
I like quaint small towns where you get a sense of something removed from the world, something unique and special, pristine and untouched by the masses.
ha.
Instead of that, I got a bit of a canned experience. Hey, should I be suprised? Scads of elderly travelers pay big money to have someone put them on a comfy, air conditioned bus and deposit them at a perfectly packaged concept of local culture.
Painless and palatable.
Nothing risked and nothing learned.
boring as hell.
and not real.
So was my first entry into the cruising industries' gift of deception. Maybe that is too harsh, because what the industry tries to do is meet demand. Which often means diminshing a cultural experience into the equvalent of vanilla. But if your job is to supply what people want, and people want vanilla...
you get my point.
Although our little family hasn't traveled the world we have traveled. And the point of that travel has been to enter in to a culture and experience it as it is, not as we would want it to be. I think part of the reason americans have a bad world travel reputation is that they(in general) expect every other culture to somehow cater to their needs or expectations. We saw glaring(and embarassing) examples of this when traveling in europe. Part of traveling in a larger group probably diminishes the ability for individuals to interact and a group can be perceived as a bit of a threat, or an insult, even though it is coveted for its economic value.
So, getting off the bus, at this point recognizing that this would be a " canned " experience, we tried to graciously follow the bus driver around the displays designed to convey the "culture". Then we were ushered to our hotel california breakfast which was a packaged plate that may have impressed someone never to have tasted mexican cuisine. Bryan and I spotted the restaurant's actual menu that held major promise only for those not commited to a "tour". The food looked amazing. but what we got was disappointing.
But we ate, and enjoyed and quickly got up to take a quick independent tour of the town.
key word...independent. Mental note for me...this is what we always need to do.
We walked past stalls and stalls of "artisan wares", the kind that may infact be made somewhere in mexico, but probably not by anyone local then finally bumped into a cool gallery where the husband of the gallery owner happened to be a belgian chef teaching the chefs at...
Hotel California.
"They let you out"? He joked with us implying the lyrics of the song. We had a wonderful interaction with this man who worked part time at the hotel. We talked of our Bahamas dream while watching his eyes light up. He gave us his card, "call me".
Walking further with limited time now because we had a bus to catch...
grrr....
we stepped into the "ancient church" which is one of the reasons we picked the tour only to find out that it had been remodeled two years before.
no wonder it didn't look like the pictures.
Catching the bus and taking our seats I secretly hoped that our trip back would be in silence but that was not to be. Armando was intent in giving us our money's worth of narrated trivia. Unfortunately it would be the same content that he gave on the trip up.
At least we were sitting closer to the back of the bus.
So, our first port experience was not that special, but we still had several days left. And getting back to the ship it was time to get dressed for dinner.

Bryan playing air guitar to the eagles hit "hotel california"(yes the hotel plays eagles hits 24/7). Notice the cute little green sticker that he is wearing. Apparently branding tourists this way gives the locals a way of distinguishing them from other travelers while making them feel silly at the same time.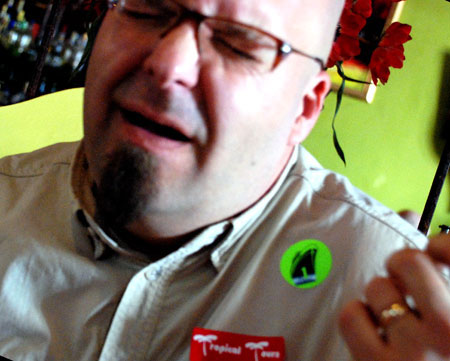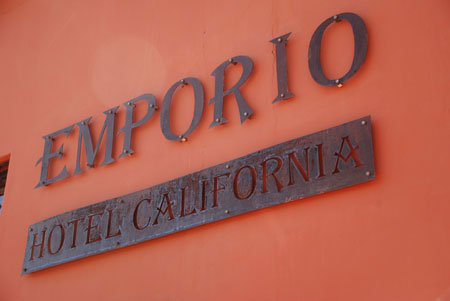 unlike the creepy lyrics of the song, the inside of the hotel was actually really charming and hip.