This morning we emerged from our stateroom in search of breakfast only to discover that we were too late for main dining. The alternative was a buffet style on the Lido Deck which was fine.
If you have never cruised before then you might feel a bit like everyone knows something you don't as life on a boat has a lot of structure. As flexible as you might think it is there is a system of time in which things are done, and in order to enjoy your trip it is good to be informed.
I thought I was.
But each day brought on a new knowledge of the way things are done and today was no exception. Since the ship was not docked and we had not selected and paid for a shore excursion that day(which gets preferential treatment) we had to wait to be "tendered" off of the ship.
This was a new term for me. I found that getting "tendered" is getting transported off of the ship by a smaller boat(life boat) to a pier.
And in order to do this you had to meet at a particular place on the ship, get a ticket, and wait for your number to be called for you to then go down to the gangway to board the "tender".
What surprised me is that this excercise took about forty five minutes. Wanting to get going and not lose a day in port, this was a wee bit frustrating and I had to fight the notion that this was a passive way to punish passengers for not buying a shore excursion. After feeling somewhat trapped on the bus the day before, I was now feeling a bit trapped on the boat.
But sitting with all the others while CNN was playing on a big screen tv we waited for our turn.
Once "tendered" we could explore to our hearts content, and I was so ready for a little freedom to wander. Loreto promised to be a "gem" according to the cruise director's narration that had been repeating itself on our stateroom tv.
it was.
Finally feeling like we could really enjoy our setting and wander this lovely town, Bryan and I pulled out our cameras and began taking pictures and film.
us newly "tendered" with the Ryndam in the background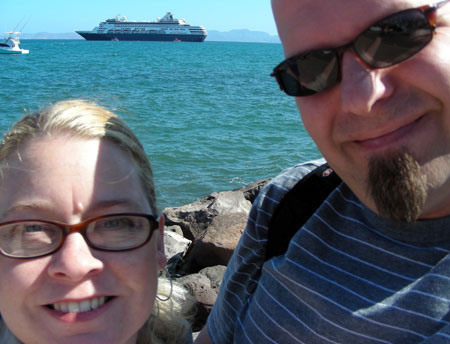 some sort of festival that day...the children were performing.