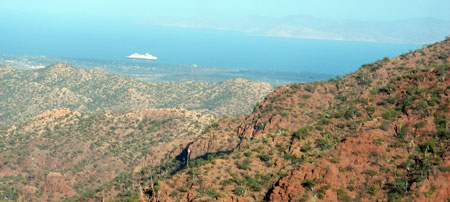 Loreto, a 300-year-old town that was California's first Capital. So it is around one thirty and we have been in this lovely village for probably half an hour when we are approached by some fellow cruisers wondering if we would like to see the old San Javier mission and share a taxi to get there.
The mission had been an excursion offered on the ship which sounded interesting except for the outrageous ticket price. Sharing a taxi to the same destination seemed a good idea. We would still have some control and it would be considerably cheaper, and not "canned". Even though I was feeling a bit reluctant to get in any vehicle of any kind at that moment, we agreed and headed for the taxi van. We had read that the mission was only about 30 minutes away which I figured I could handle.
Our taxi mates Jeff and Joyce had negotiated terms and that our driver would indeed stay around while once at our destination. When asking the taxi driver if he would stay with us for two hours, he replied four and a half.
This should have rung a bell in my head that the language difference may have been clouding the details, but everyone seemed set and we piled into a van heading for the mission.
Friendly chatting while we traveled first on the highway, then turned onto a winding dirt road that then landed us driving down a dry river bed.
interesting.
Gleaning some info from the driver and after viewing several "pit stops" that seemed weird in the middle of nowhere we discovered that we were traveling on the baja 1000 raceway! And the race was going on!
http://www.score-international.com/baja1000/index.ihtml
And the driver of the taxi seemed to enjoy this very much as we sped along, dust and rocks flying.
At one point he stopped to point out that there were cave paintings and would we like to see them.
yes.
So we piled out and checked out these interesting markings, took some pictures and got back into the taxi. At this point I am sure that the mission must be just around the next corner.
We drove and drove and drove. As we went further up into the hills at some point we looked back an saw the Ryndam way off in the distance. As fun as this drive had been I began to feel a little uncertain about our communication skills and whether the taxi driver meant the trip would take four and a half hours total, or that he would wait for us for that amount of time.
Well, you can guess which one it was.
It took approximately an hour and forty five minutes to get to the mission. When we finally came upon it I felt such a sense of relief. Even though the adventure of driving on the riverbed had been fun I was still hoping to get back to the town to wander before the ship left at seven.
But the mission was well worth it. Begun in 1699 with a chapel, the mission building was completed in 1759 making it the second oldest but most well preserved in all the Californias.
our taxi mates Jeff and Joyce, and our baja raceway driver.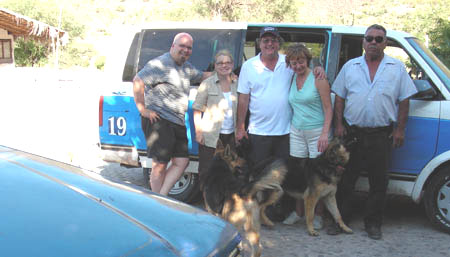 me filming the mission through these lovely bouganvilla.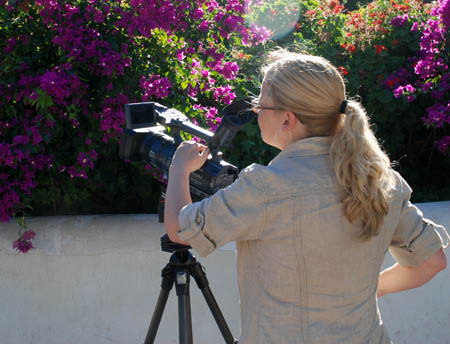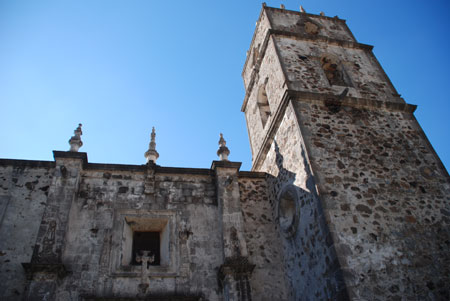 Once our filming and sightseeing was done we piled back into the trusty taxi. This time knowing how long the return trip was I relaxed and enjoyed the rough ride back. The taxi driver enjoyed passing other drivers which became a bit of a game. We were all amazed that his van didn't fly apart in the rough terrain. Even with the miscommunication this was still much better than a bus tour. And we didn't have to wear a silly sticker.
We arrived back in the town in time to take a few more pictures before boarding.
Quite the adventure.