Our sixth day took us to the port of mazatlan. And no tendering(thankfully) as we are docked. Getting off the boat we are greeted by a gauntlet of folk aggressively vying for our attention to buy or book whatever they happen to be selling. This particular day we are resolute and a little wiser. We wade our way through them trying to politely decline all their offers (truly you feel as if you are carrion recently discovered by a flock of vultures) until we find a simple taxi driver. Here the taxis are golf carts, and in just a few minutes we are wisked away to the historic center of town.
Free to wander at last.
This ended up being my favorite day of the cruise. Aside from the diving experience, wandering around mazatlan was perfect.
We checked out the church first and proceeded inside just before a service. Beautiful and serene, we sat down in one of the pews to take it in. In front of us an older woman greeted a younger man, crossing him and kissing him on the cheek. Mother and son. A beautiful moment. We sat for a while and then quietly got up and took a few pictures.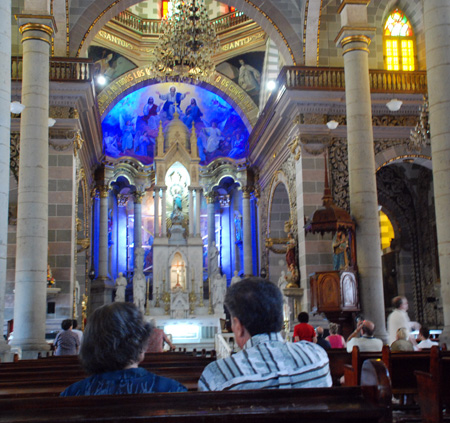 As we exited the church a large group was entering. Narrator loudly leading a tour of folk....
all wearing bright green stickers.
I smiled to myself as we left.
We headed for the historic district where we found an interesting arts area and noticed big posters with dates on them advertising various arts events. Tonight there was a ballet...
But the boat left at seven. That is too bad.
Curious we crept into the theatre building and was first discouraged by an elderly man, but then tried another entrance and was met by a woman. Broken Spanish and English brought us to the understanding that there was a performance of tonight's ballet going on right now for all the school children.
Can we see?
Sure... so we entered the theatre and went up to one of the balconies. Opening the door to a darkened theatre was weird and seemed almost illegal...but we had permission. A few vacant chair among a sea of school children.... we took the seats and began to watch.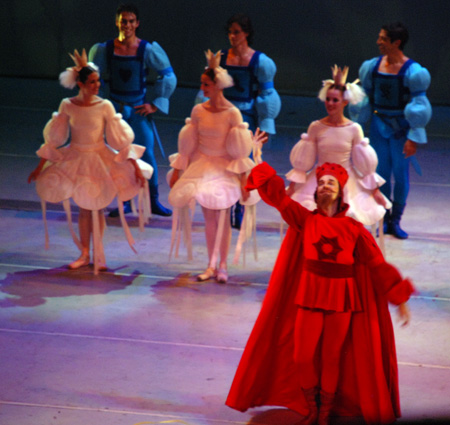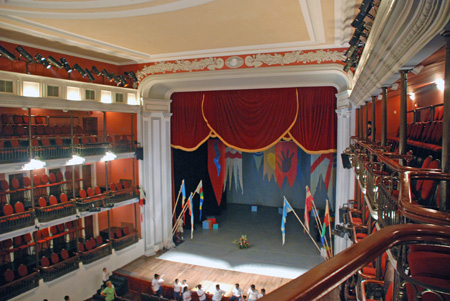 very cool. Now I was enjoying the trip and feeling very sorry for the people we had seen earlier on the tour.
We watched the ballet feeling very priveliged to be the only foreigners in the building. Exiting with scads of kids we looked a little out of place, but no body seemed to mind.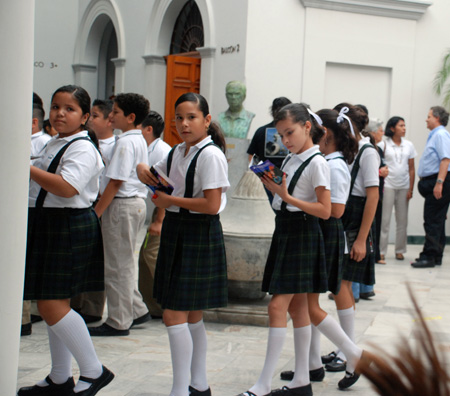 I was reminded that the fundamental things that people care about seem to be universal. School kids are school kids in any culture (although these seemed to be much more well behaved than their american counterparts). The need for education and how that is accomplished is pretty much the same. We watched as the teachers guided the children out of the theatre and down the street back to school.