After parting ways with the school children we wandered further down the street taking in some of the amazing architecture. Some being restored and some reduced to rubble it made for some great photo subjects. One of the beautifully restored homes we encountered had been turned into a gallery called NidArt. (nest of artisans)
A family of leather artists lived here and showed their work and the work of other local artists. I was enchanted immediately. Not just because the father, Rak, was so proud of his work and gallery, but because we were seeing something original and with heart. It is easy to recognize a kindred spirit. He had accomplished here what we hoped to do (sort of) in the bahamas. We even described our dream to him and watched his eyes light up.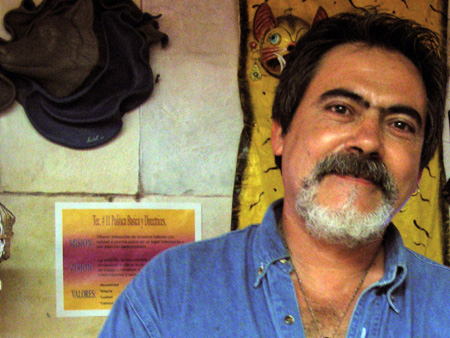 www.nidart.com

The real challenge was selecting something from all the beautiful work this family did. Because (I expect) of their proximity to the historic theatre they created masks, mostly. But their one deviation from this was scuptures of the female figure. Swirled in different colors of leather each one was a little different. They also incorporated snake skin and even snapper skin(yes the fish) that they had dyed. I fell in love with two of the works but couldn't decide. Explaining what had me torn to Bryan he proceeded to speak to Rak...
"We have a problem," he said sort of in jest... and continued to explain how much we liked one but it lacked the snapper skin that the other one had.
I cringed... hating to ever put my personal preference against another artist's creation.
Rak expressed cheerfully that he could incorporate that extra detail without compromising the original design. And he could have it for us in a few hours.
wow.
But it didn't stop there. Rak was also very helpful in steering us toward a great place to eat...
"Something, NOT touristy"? Bryan inquired. Having walked through the center of the historic downtown we saw what appeared to be oodles of good looking restaurants...
Mentioning these to Rak, he politely shook his head in the negative while scrunching his nose...
message received.
He directed us toward the water, about four blocks walking distance, to La Copa La Leche.
We were so glad that he did.
Along the way we encountered other great little places that held tempting promise of treasure, but it was time to find food...
And if you haven't figured it out yet...
it is always about the food.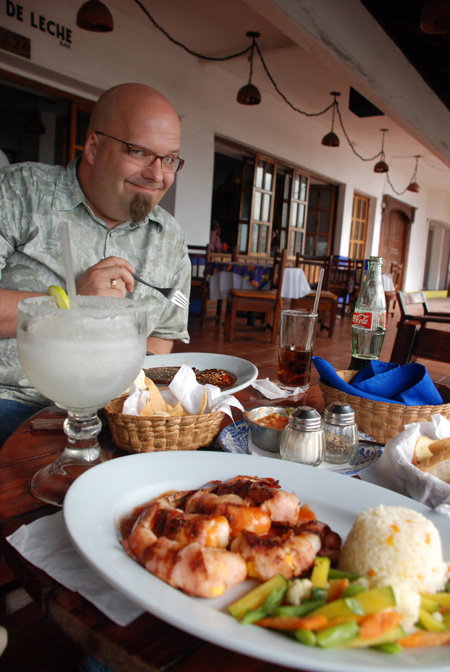 Having amazing seafood on the ocean is always a good thing. And there is nothing better than the perfect margarita. (Although this one isn't as big as it looks...being in the forground made it look like I could stick my whole head in the glass and wear it like a hat).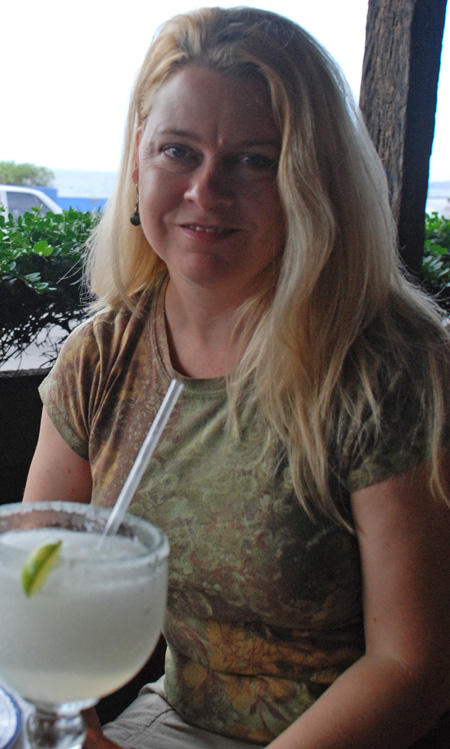 Making friendly conversation with the restaurant people and finishing with flan... we headed back to see our final artwork by Rak.
Perfect.

More images of the studio and gallery of NidArt.