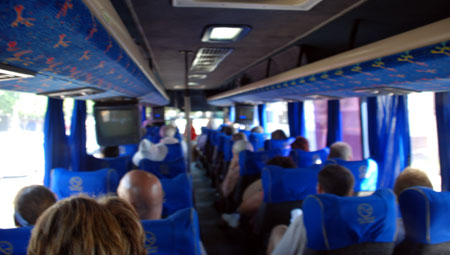 Today we are docked. Although rumored to be a port that is not worth getting off at I can't quite understand why the cruise line would port her for no reason.
I later found out.
The fact that the name of the city has five "o"s in it should have been a clue.
But determined to get off and have a free day to explore, rest, and possibly get some beach time we disembarked. By now I was in some serious need of water after seeing two days worth of desert.
So there was talk of a "free shuttle" to the beach provided by the locals so Bryan inquired to a lovely young woman that seemed to have all the info. It is free but you need a ticket (which I didn't quite get, but oh well I guess it is their way to keep a count of passengers.)
Although our wait may be an hour we got a ticket for the next available time...
Garnering what we thought was enough info about the "shuttle" what we understood was that it went into the downtown but would eventually get to the beach.
I envisioned a loop like a lot of cities do providing courtesy transportation.
I am convinced now and after the last couple of days that I must learn spanish. Shuttle doesn't translate well apparently as we were to soon find out.
The next shuttle was filling up and not wanting to wait a whole hour we thought we would be smart and stand next to the door in case there just happened to be a few extra seats.
There were. The seats weren't together, but one at the very front (jump seat) and one in the center at the very back.
That's fine, what will it be... fifteen minutes maybe...we thought. We can sit apart for that long (I had been playfully calling this trip a second honeymoon). And I can stand a bus for just a short time...it is not like it is a tour... it is a "shuttle".
So I took the back seat, the doors closed and we were off. Wearing my swimsuit I was so ready for a little beach time.
Then the lovely young lady at the front of the bus began to narrate.
No problem, I thought, she just wants to keep us informed as we get on and get off at our various destinations.
Not so.
As I watched us drive away from the port and straight inland I started to get a funny feeling. Wedged between to very elderly men I leaned forward to speak to one of their wives inquiring about "how long do you think the ride is to the beach".
"Oh, I don't think this goes to the beach," she said. "I do know that it is two and a half hours long".
Suddenly I couldn't breath.
Meanwhile upfront Bryan was getting some similar information.
So here we are, not even sitting together stuck on a bus for a "free tour" of downtown topolobompo...
complete with burger king and walmart.
Now normally I can find something good in every situation, but the cumulation of little things at this point, magnified by having been sick after a hard work week at a trade show...
I was pissed.
(And by now you are wondering if I complained throughout the entire trip. Usually pretty uncharacteristic of me...the trip does get better. Again, glad for the ten day cruise.)
For some unknown reason the mexico government thought this "tour" would be a good idea, but I am not sure why because it wasn't informative, they weren't making money on tickets, and it ultimately didn't drop you anywhere to spend your tourist dollars therefore boosting their economy.
I couldn't figure out the logic. The tour took you through the most unattractive city and deposited you back at the ship at the end. They did make two stops that didn't warrant sight seeing, or shopping. One stop was a park, one was a "light house". When I heard this I thought, Ok... let's make the best of it, maybe good photo opps... I can dodge and weave... when you get lemons make lemonade and all that.
Well, the "light house" was a leveled brick monument covered with graffiti (no, not even good graffiti or I would have photographed that).
Believe me I was looking for anything to redeem this "tour" and it just wasn't happening.
Back on the bus as the young woman attempted to narrate over a sound system that was flawed (I found out later that Bryan having the seat upfront was literally holding the worn out mic cable in place so the woman could be heard...he's such a sport) we endured the drive back to where we started.
We did find out later that this was only the tenth time (in total) that a cruise ship came here, and only Holland America. So that shed some light on things.

Back at the dock wanting desperately to redeem the day and not just give up by getting back on the boat (I could get a massage)... we grabbed a taxi. Five minutes and ten dollars later we hit sand...
what a relief.
And we had what was one of the best meals of the whole trip (including ship cuisine). This little hut on the ocean served fresh snapper. Willing to please and working so hard was "Sergio" our cook, waiter, and bartender. After placing our order with his recommendation I asked if he served wine. He said he didn't have any but could see if they had some next door. Barely a split second after my reply he was running down the beach kicking up sand while heading to the establishment next door. I was a little embarrassed at the uber willingness to serve, but it was a nice contrast to being trapped on a bus.
He came back with two bottles but was unsure of the price because the owner wasn't there...he had to charge us an outrageous sum so I appologized for his effort and declined...
and settled for a corona.
Hey it's mexico.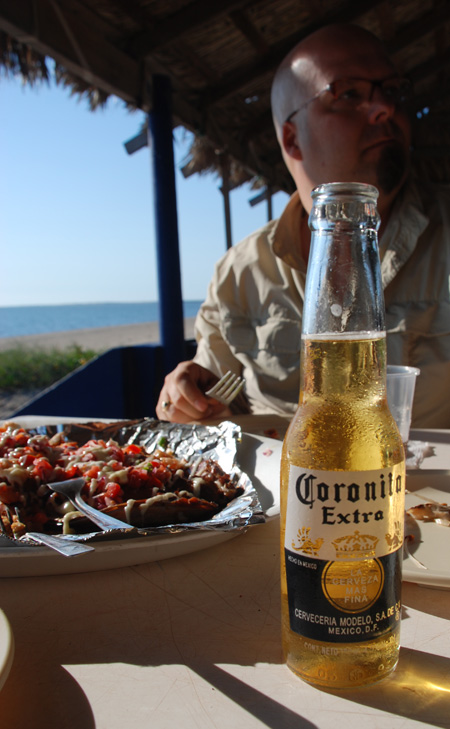 saved by snapper.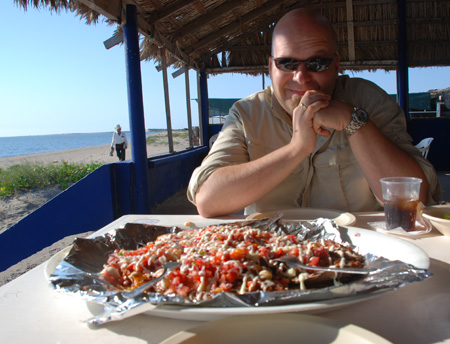 a much happier blair.