I am probably going to be sprinkling creative days in with business days a bit more in the next few weeks. The muse was very clear when last night I filled three pages with sketches and this morning the torch was the only thing I could think about...
i guess a multi-disciplined show is a good way to get inspired. So today's offering is a newly smithed pendent. All that is left to do to it is polish it.
I guess I can still do the really challenging pieces. This one has a dozen solder joints. I am struggling with one handicap...I don't see as well as I used to. Bifocals weren't part of my toolkit twenty years ago. So I feel a bit like an old woman and probably look a little silly holding up the work at arms length and right in front of my nose, all with a lit torch in my hand.;-)
At least I didn't burn the house down.
or lose some eyebrows for that matter.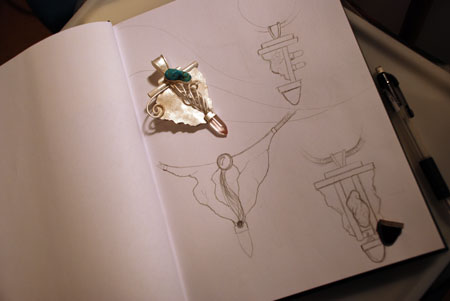 turquoise and rose quartz