When I went away to college in 1983 a new person stepped into my mother's life.
And into mine.
Although he had five children of his own, he readily included me as one of them.
Sitting in the service that memorialized him I contemplated the word.
Step.
From the phone call that said "you need to come home", "he isn't doing well", to the call a few hours later..."he's gone", to the plane ride and the planning and preparations... during it all I kept contemplating the word.
Step.
He walked me down the aisle on my wedding day, moved my stuff in college, helped with my first art show... all those things a father would.
Through the years he took that place that my natural father never would have. He became the ideal of the word father. Our relationship as "steps" always made me keep things cordial, and polite. It is funny how a simple word can lay boundries around your heart that keep you from recognizing the fullness of a relationship. Through the journey of the last week from the sad news to experiencing my mother's tears, and my own, I felt as though my own emotions had ambushed me. The word step could not allow me to completely identify with the emotions of his real daughters and yet the emotions were there laying claim without permission.
The emotional protection that would be caused by the distancing of the word...
was not there.
Confusion about what I thought was appropriate to feel compared to what I was feeling sat within me.
I am only a step.
For twenty three years he made my mother happy, cared for two families...children..grandchildren...great grandchildren. Clearly he had enough love to go around.
Countless hours were spent discussing life, spirituality, politics, and protocol during the many visits to wherever we were living at the time, Alberta, Florida, Maryland. He was always ready to give advice but only if invited to do so. Mostly he would listen. Except when telling his stories of the war which everyone loved to hear even though we had heard each one many times before. He taught the things that my natural father never could. Integrity, honesty, loyalty.
It always felt good to make him proud.
In the time that ticked away from the moment that he became my mother's husband something happened to the title. What seemed a firm definition of a relationship by term became a thin and meaningless word last wednesday. Watching the flag folded and handed to my mother I wrestled with this word that was not giving me full permission and something became clear. The culmination of time and love had erased the meaning.
He was not just a step...
He was my father.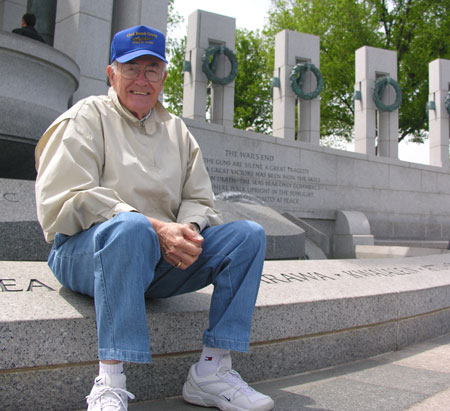 George Callihan
1924-2007