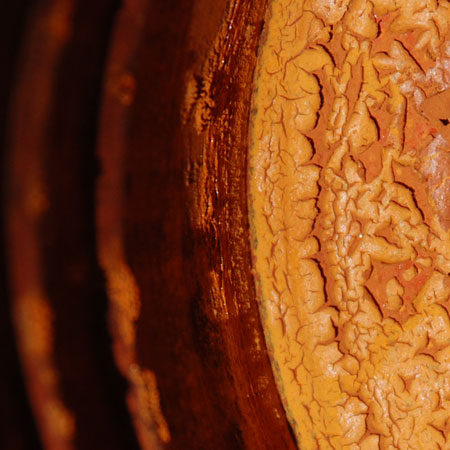 This picture is an icon for a dry painting spell. It is a shot of the bottom of a coffee can that I use to swish my brushes. Long since dried it has created an art form of its own. When I picked it up to fill it I looked inside and was enchanted by the image that was created (which sparked the need to take the picture). It reminds me that even creativity can have its cycles, and I have had a dry one for the last few weeks (regarding painting anyway).
Really creativity just shifted gears. I have been working on the sketches for the buildings for exnihilo (the artist retreat). They are only prelim sketches, and they will probably be altered again and again, but it was such a good feeling to get a few lines on paper. These simple lines represent major decisions. Walls, dimensions, walkways.
I remember when I was a little girl and a friend of mine and I would draw little worlds in her driveway with chalk. We would draw each of our "houses" and then the little roadways that would connect them and try to ride our bikes on them(she had a big driveway). The blissful world of pretend brought to life in pink, blue, pale green, and white.
Fast forward to today and I am drawing on special paper with blue squares, designing a very similar kind of thing.
But this one is for grown ups. How cool is that!
But I have to admit I wouldn't have gotten very far without the other half of the development team. Last sunday while staring at the page I threw some ideas at Bryan while we sipped our coffee. He has this keen way of ordering his thoughts and is a quick problem solver. Where I got stuck he simply pointed out a few ideas and I was unstuck and off to the races. He went off to do other projects while I penciled my way back into childhood. We make a good team. We later went to the library and picked up stacks of books on design. By no means do I have delusions of acting as architect on this, but I get stubborn about wanting to know something well enough to at least speak the language when handing off my simple sketches to a pro.
Having been inspired as well, Bryan was wandering the library isles searching for recording studio design (yes, exnihilo is going to have a studio too). The same spark that was in my eyes earlier was now in his as he began to imagine the space, the gear, and the potential of the studio doubling as a hurricane shelter (again showing his gift for problem solving). Later he told me about when he and his brother were kids and the family was going to remodel the basement for their new rooms. The boys drew up plans for various work stations for all their favorite activities...
sound familiar?
Hopefully exnihilo will foster the same kind of childhood inspiration in those that visit. That is the whole goal. Making space for creativity to blossom, exnihilo (out of nothing). Hopefully a few years from now we will be inviting you all there.