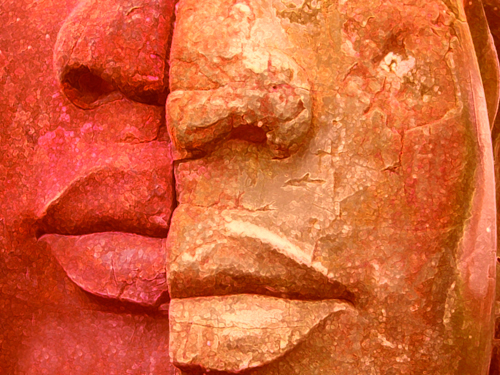 I approached my beloved artist date (friday) with a sense of anticipation and reluctance today. The anticipation comes from a place of well fostered joy built day by day, out of bricks made from celebration of being an artist. The reluctance comes from negative voices shouting against that divinely given identity. Voices which have been a recent plague on my psyche.
This is an old old story for me and it always surprises me when it crops up now and again presenting it's all familiar creative roadblock.
Negative self-talk. That is what it is, and scouring scripture this morning reminded me that there is no room for negative self talk in an identity that is gifted from god.
Consider this...
Phillipians 4;6
Do not be anxious about anything, but in everything, by prayer and petition, with thanksgiving, present your requests to God.
7 And the peace of God, which transcends all understanding, will guard your hearts and your minds in Christ Jesus.
8 Finally, whatever is true, whatever is noble, whatever is right, whatever is pure, whatever is lovely, whatever is admirable--if anything is excellent or praiseworthy--think about such things.
Or this...
Galatians 5: 22-23
the Spirit is love, joy, peace, patience, kindness, goodness, faithfulness,
23 gentleness and self-control. Against such things there is no law.
or this...
James 1:2
Consider it pure joy, my brothers, whenever you face trials of many kinds,
3 because you know that the testing of your faith develops perseverance.
4 Perseverance must finish its work so that you may be mature and complete, not lacking anything.
5 If any of you lacks wisdom, he should ask God, who gives generously to all without finding fault, and it will be given to him.
6 But when he asks, he must believe and not doubt, because he who doubts is like a wave of the sea, blown and tossed by the wind.
Why this tangent today? Because I recognized that although I have so many things to be thankful for I have not been so thankful lately. Instead I began to focus on the stupid little things that tend to rob the joy from life. I also began to focus on all the negative aspects of myself (example;need to lose weight, aging, etc). What is amazing about that activity is that it doesn't help readjust ones thinking or motivate one for improvement. Being dissatisfied doesn't move me forward. Being content does.
Php 4:12 I know what it is to be in need, and I know what it is to have plenty. I have learned the secret of being content in any and every situation, whether well fed or hungry, whether living in plenty or in want.
But practicing contentment is hard for me sometimes. And then there is the embarrassment that comes from having plenty and being discontent, which spirals into feeling like you have no right to be content because you don't appreciated what you have already. Which just points out the "bad person" aspect and makes it worse.
Vicious cycle. Negative self talk.
Does anyone else struggle with this?
Some of these feelings (I am sure) comes from (still) adjusting to a new identity in not having a child at home anylonger. My moorings are being realigned and while I wasn't paying attention some of my internal speech shifted. Little things. Seemingly inconsequential words spoken in my head. So quiet that I might not even hear them.
But I do, somewhere in the back of my head...
stupid.
ugly.
fat.
useless.
Or phrases...
you used to be so good at this.
you have gotten so lazy.
self indulgent.
Wow, where did that come from.
So while I wasn't looking my brain decided to slip in these one liners that started to make me doubt my newly forming identity threatening the things that I knew before..
That I am...
fabulous artist,
resourceful,
creative,
insightful,
great mother of an incredible son,
great wife of an awesome husband,
beautiful,
efficient...
I am grateful for...
my health,
my family,
my home,
my work...
There will be more to my positive self-talk list, but for now these words will quiet that negative voice that was steering me into a negative version of myself.
I learned years ago that negative self-talk just perpetuates the negative. It is amazing to me that scripture even addresses it.
So part of my artist date today was a reminder to myself. Creative activities that encourage rather than convict. Low pressure projects that don't need perfection just imagination. Journalling. The artist date today consists of reminders of who I am and all that I have to be grateful for.