No backdated posts yet from me, still trying to dig out of post vacation work but I HAD to jot a note to direct you to my good friend Anita's new blog...
If you ever wanted to live vicariously "under the tuscan sun" style only in Provence, now's your chance. Fearless girl that she is we all know that taking that first step into your MONDO BEYONDO is the scariest part but my gal pal mustered it and bought her ticket. She has been given the opportunity to live in this beautiful town for a year.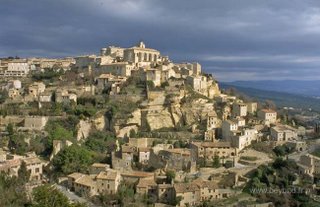 Taking an opportunity like this may seem like a no brainer but how many of us actually take the chance and jump of that cliff. Sometimes it is easier to sit in the car than to step on the gas.
Anita's story is already inspiring enough, having raised twin daughters as a single mother working as a freelance artist. Many years of sacrifice for family and friends have come to this crossroads - the girls are eighteen and soon to be out on their own...
It is Anita's turn to fly.
But if you have ever been faced with your ultimate dream you know that in the reality of day the details can sometimes make you doubt and in my mind that is when the women are separated from the girls, when words become action. Most people settle for dreaming, but action speaks louder as they say.
Go Anita!
So if you tend to read my blog I encourage you to visit Nini Goes To France and give her a big "YOU GO GIRL". There is much to follow her in this big step and she could use our support and encouragement as she embarks on this new, awesome, and scary adventure. So go over and give her a sisterly hug by leaving a comment or two. I for one plan on visiting her over there... and I am sure she would welcome guests...
hmmm...
Anyway, she goes in April so leave a comment and wish her the best.
Anita, we are so proud of you!!