In my exploration of the place where art intersects with the spirit I have in the last few months opened a door in me that has allowed me to put deep feelings into paint. It is just an exercise for me to not intellectualize or try to illustrate how I feel but simply connect with the sensation and see what happens. The first one took me by surprise, in fact it utterly ambushed me. It was a few weeks after Daniel had gone off to college and I was experiencing some strong feelings of separation in spite of telling myself how silly it was to feel this way. The only thing that gave me a sense of comfort was painting in red. I don't remember if I blogged on this at the time, but I know I didn't post the painting because frankly it didn't photograph well, and it was after all, just feelings spilled out in paint. Akin to Julie Cameron's morning pages exercise, only in paint. If you have read her book "The Artist's Way" she strongly encourages never to show anyone your morning pages.
But I am continuing to try to honor this new awareness so I am going to start to post my explorations of this (in spite of Cameron's advice). In no way do I feel that these are "real art" but what is that anyway? Maybe it is and there is just so much more work that needs to happen in me to acknowledge that. It is all process and that is what I am focusing on. Soul work as my friend Jen puts it. It resides on a very subconscious level.

Red (or Separation) Even though this was prompted by feelings of loss, when I look at it now it makes me really happy. I have no idea why.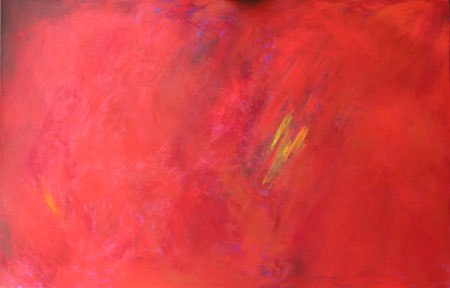 This next one I painted on Nov. 28th. I was having very intense feelings of personal failure as well as a strong sense that there was a "strange disturbance in the force" ;-). That is a silly way to express what is a feeling of foreboding that I sometimes get that involves the perception that a loved one or someone that I care about is struggling. This sensation tends to be a prayer prompter. In this I felt a pressure, or oppression. It was even difficult to breath.
Soul Struggle