We started out Sunday morning (well it was actually noon) with spinach and cheese eggs and the comfy feeling of eating together at our table.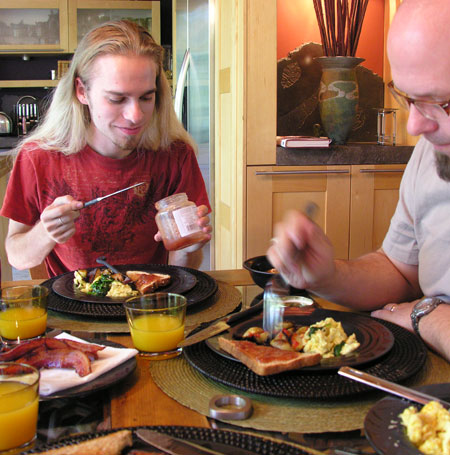 With the throws of fall upon us and a lovely bright day we ventured out to do something fun and creatively stimulating. Bryan had stumbled upon this new little gallery practically in our own back yard that we had somehow missed. It was quirky and cool with a focus on local (silver spring) artists. It is called Alchemy and while we were looking at all the great art we managed to reveal to the very talkative caretaker that we were all artists, her eyes lighting up she invited us to contact the owner for further information.
After this great find we walked across the street to a local seafood haunt and had some lunch making plans to head into Adams Morgan for some more gallery scouting.
We bumped into the Nevin Kelly Gallery which I put on my list of galleries to send samples to in hopes to find a home for my thin places, or at least a brief showing.
We finished of the day by having dessert of green tea cheesecake and mango sticky rice at a cool little place on U street.