What do you do when your only child moves out?
You demolish his bathroom.
Okay, it is not like we need another project right now. The backyard is totally torn apart and there are retaining walls to build, but for some reason we couldn't resist starting on a bathroom remodel. The bathroom that was Daniel's has never been redone and it is in a scary condition. We have always wanted to fix it. And we have company coming. So now seemed like a good time. Over coffee Bryan and I discussed the options. We began with not changing the wall tile and just tiling the floor, resurfacing the tub and painting. No big deal. By the end of the day we were here.
Bryan in full demo mode.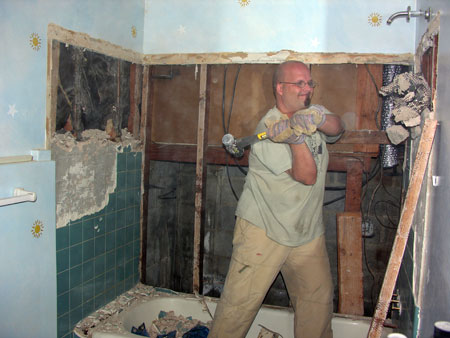 What can I say?
The old bluish tile was forcing us into a design corner and in the end it had to go. I love to tile anyway.
And it won't hurt to have some serious projects going the next few weeks while adjusting to the quiet house.