Back at Max's Grill, here is Gary and Rebecca. We had met Aaron and Rebecca at chez Piere's and found out that they had come to the island to get married. Barefoot on the beach in front of Dean's blue hole (which is a beautiful natural phenomenon in the ocean, basically a big hole that drops 660 feet). Aaron and Rebecca have picked Max's as the perfect place for the post-vow reception. The whole island is invited.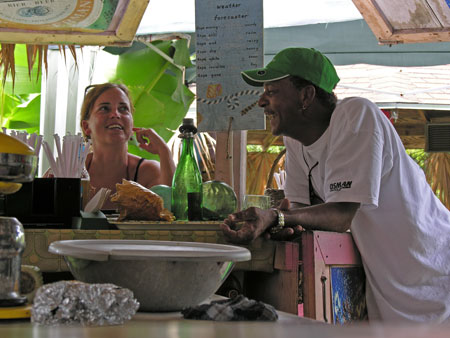 Not a bad idea. Gary and his wife are incredible cooks. My personal favorite is his Conch salad. Raw conch, peppers, onion, celery, lime and orange juice (that cooks the conch). Yum
In passing conversation we mention to the couple that we have all sorts of video gear and would they like us to tape the wedding?
yup.
cool. We'll be there. Tomorrow at 4.
Now we are off to snorkel the blue hole and interview an islander, Mr. Cartwright. In the barrage of questions that I had for our realtor, Jimmy, I had mentioned our desire to meet some folk that have lived here all their lives. Mr Cartwright was Jimmy's first pick. Known as the island's story man, he was perfect. Jimmy arranged a meeting at 2.
Gracious and friendly with an incredible memory at age 84 this dear man told us stories of the island of his youth. He also favored us with the 23rd psalm, the beatitudes, and the Lord's prayer all committed to memory.