Over dinner one night our Orlando friends Terri and Lee mentioned that they met a builder on the island and had made an appointment with him to go over their project. Since we were all trolling for the same info, they graciously invited us along to meet this man and see some of his work. So in the morning we headed out and by noon I knew we had our builder. Not to mention the wealth of information he had to share, he was also very meticulous about his work. He also had seen the property we were considering and said it was buildable. We also learned that in order to build here you need to have a bahamian architect (pronounced ch like in match). So the advice is to find an architect in the states to draw your plans and then have a local bahamian redraw them. He has the name of such a person. Now we need one stateside who understands our dream.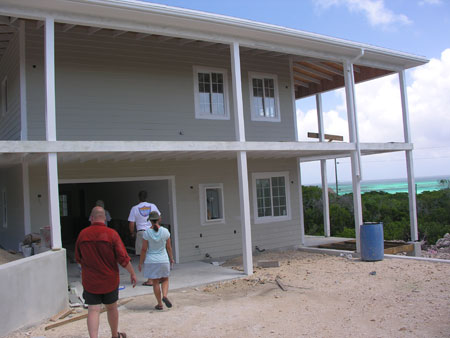 Our fears put to rest about various maintenance issues on the atlantic side we decided to make an offer on the land. The piece that we had looked at was in a subdivision which had some advantages. Power, cable, and a road (soon to be paved). It also had some disadvantages. Restrictions. For what we wanted to create (a multi-unit artist retreat complete with a commercial art gallery) the restrictions on the contract were designed to keep it residential. I had taken a copy of these "conditions" and had basically highlighted what we wanted taken out, and added what we wanted...added, like a guarantee that the road would be paved, and the park next to our property would be developed.
There was also a parcel available behind ours at a substantially cheaper price, and so I made an offer to purchase both but at lesser total price. The other thing about buying bahamian is the land is taxed based on the purchase price, so I proposed that they add the two properties together (one expensive, one cheap) and sell both at an equal price which would save us 2 percent.
What the heck. The worst they could do is say no.
But Jimmy seemed positive that all our requests would be no problem. He had already inquired about the gallery and the sellers liked the idea and that it might turn into a feature to the development. Jimmy's task was now to contact the sellers with our offer and our instructions were to call back later for the verdict. Excited about his positive attitude we were on our way.
Here is Bryan after the phone call. Seller one has agreed. One down, one to go. That is me in the lower right corner in the rear view mirror, sitting in the car.