My artist date-friday is in full swing as I honor the time that is set aside every friday to fill the creative well. Brushes await but I had to report that last friday I managed to finish "my beach in a bottle" pendant. Quite a task after not doing anything with metal for such a long time. And I didn't burn down the house! Amazing.
Anyway, here it is, my abstraction of the sun (citrine-yellow stone) rising over my beach (sand in the bottle). The amethyst (my favorite color) symbolizes the connection of the beach as a source of creativity and hope of things to come (spiral).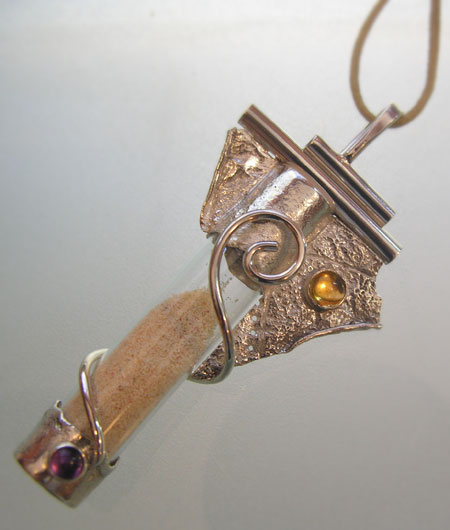 I wore this while visiting the national cathedral on tuesday with my brilliant girl pal Jen. Sitting in that sacred space listening to the harpist that was playing I contemplated what this mondo vision would/could grow into. It would be the most satisfying thing ever to be able to create a beautiful and inviting space for artists to come and be inspired, creatively and spiritually-connect with other artists and be able to intersect each other's creative journeys.
As I sat listening to the beautiful music I looked over to see two women sitting a few rows up, embracing. It was the kind of embrace that had a story. Probably sorrow. I sat watching as these two remained embraced for a very long time. One seemed to be comforting the other, and there was such simple purity in the act. Support, encouragement, connection. Inspiring. That is what I would like to create with the artist's retreat.
Weighing the endless details of what it takes to make such a dream come true is not far from my mind. Yesterday I brought home a giant stack of books from the library to pour through for ideas about structure, design, and space in order to create the most inspiring setting possible. A lofty goal considering we only have one acre (and change) and an absolute laughable budget. But I have found that limitations, when viewed with an open mind, are often just creative parameters.
So as I continue to contemplate the nature of these artist spaces, I am off to fill the well. Today I hope to finish "Formation".