How does a family of artists celebrate a milestone event like graduation? We go to a museum of course.
Daniel's graduation ceremonies were going to be held at Constitution Hall, in the heart of downtown DC. Scheduled for 10 am I realized weeks ago that we had to have a strategy to ensure a timely arrival. Having grandparents visiting also meant there were more of us to transport at what would essentially be, the middle of rush hour. The thought of getting up super early, making sure everyone was ready, fighting rush hour, not to mention trying to find parking downtown, spelled disaster waiting to happen.
So it seemed appropriate to spend the night before in a DC hotel, that way everyone was only a short taxi ride away. I figured why not make the most of it so we started out leisurely sunday morning at Daniel's favorite breakfast place, eggspectations. Then we headed for the Phillips Collection, America's first museum of modern art. We are lucky enough to have one of the world's most famous works of art available to us through this collection, Renior's Luncheon of the Boating Party, and as a special feature the Phillips houses the first public works of Daniel's favorite artist, Mark Rothko. Daniel did not know where we were going and was pleasantly surprised when we pulled up in front of the museum. I really wanted the weekend to be "about him" and this proved to be just the right thing.
While roaming through room upon room of this amazing collection I watched as Daniel engaged his grandparents in discussion about art. Born, raised, and living all of their lives in rural Alberta, Bryan's parents don't tend to frequent these kinds of museums. I was thrilled to see the connections being made as Daniel explained the nature of Rothko's work to the grandparents who were willing to hear. Daniel graciously drew them into his world chatting about the things that he loves most.
Here Daniel and Grandma admire the great renoir.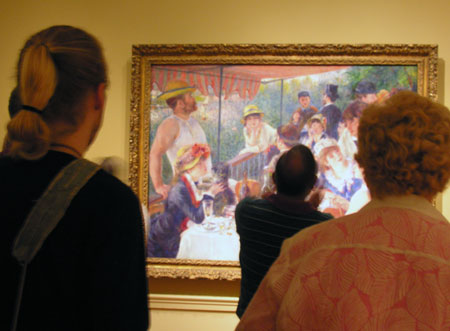 We ended the day at this hip little restaurant called Firefly that was joined to the hotel in which we were staying.