O.K, just a disclaimer for anyone bothering to read my blog. The posts are starting to all sound the same and that is probably going to be the norm for the next six months as we (the family) are somewhat focused on the journey to college. It is a great transition and like all great transitions there is alot of mulling over what has been mulled and re-mulled. It is the necessary process of adjustment to a new idea, time of life, or change but the rehash may appear like navel-gazing. So for the next 6 months or so every other post is probably going to have MICA in it. Consider yourself warned.
Another round at MICA involved a meet the faculty day. So Sunday we spent looking at THE school again only on an even deeper level. This round in particular involved a group of prospective scholarship winners(including us) and so there was a narrower focus compared to the last time which was more about selling the school. This trip assumed that you were included in the MICA community and so it had a more intimate tone. Chatting at lunch with faculty and students was so insightful. Some of the visit on this pass was a bit of a repeat from the last tour we took, but this time we got to talk to the teachers. I was STRUCK at how much they care for each one of "their" students. Each one very animated in their discussions and obviously loving what they do. We toured the galleries which all had completely new exhibitions since the last time we were there. Amazing stuff. There was an intensity that was palpable. Maybe it was because the faculty and staff and scholarship committees are still spending late hours sifting through the finalists. It is obvious that they are focused on the task. As we approached the reception building at the beginning of the day we were greeted by a woman that directed us into the building but before she directed us she looked at Daniel and said, "I remember you." We were a little confused by this but then she clarified that it was from the "book" that was one of his scholarship applications which had his picture all over it. We were sort of blown away. At any rate we were told later in the day that final scholarship letters are being sent this friday.
Which means we will have a letter a week from today (monday) that will reveal the next step to this process.
Except that we go out of town on Sunday and are gone for a week.
Arghhhhh.
------------------
viewing one of the gallery installations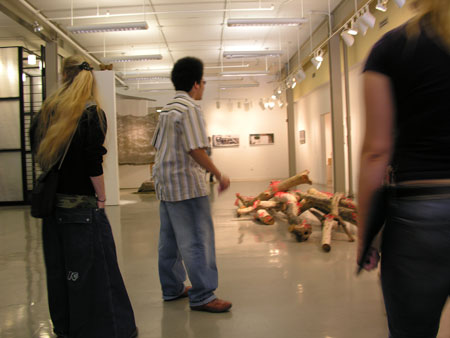 Talking with the fine arts department. Daniel is hidden behind someone in this shot but he is actually talking to the Chair of the Painting Dept, Barry Nemett (wearing the pink name tag). Although he has a masters from Yale and a resume that doesn't quit, you would have never known it by how attentive and kind he was in conversing with Daniel.