DAY 26, WEDNESDAY JULY 20
So we have been in rome and still haven't seen the Sistine Chapel. Our flight leaves that evening around 7 which means we need to check out and store our bags for a few hours and do some more sight seeing before catching a cab to the airport. The night before at dinner, we asked our waiter if we should attempt getting into the sistine with the amount of time that we had. He looked at us kind of funny, like we had a few screws loose. We had seen the line to get into the Vatican Museum (which houses the sistine chapel) a few days before and it went all the way around the vatican city walls which equals a few city blocks. But here was the thing...
When would we get back here again?
How can you go to Rome and miss the Sistine Chapel?
How could I miss the room where Michelangelo spent so much of his life and energy?
We had to try.
So we vowed to get up early and get in "the line" before the museum opens at 8:45. This meant packing, checking our bags with the hotel and checking out, riding the metro, and walking a few blocks to the "line", all before 8:45.
For us this was impossible.
But, doing our absolute best we managed to get to "the line" at about 9:30. Disheartened to discover that it was already blocks long, we took our place behind several tour groups. Hey, how many times had we stood in line an hour for a dumb rollercoaster at Disney World? This was the Vatican Museum after all. We could wait.
Daniel and I held our place in line while Bryan went off to hunt for coffee and something to munch (we had skipped breakfast). He comes back with the much appreciated coffee and we settle into our long wait.
45 minutes later we were inside the museum. Wow, what a great thing.
Perseus with the head of Medusa.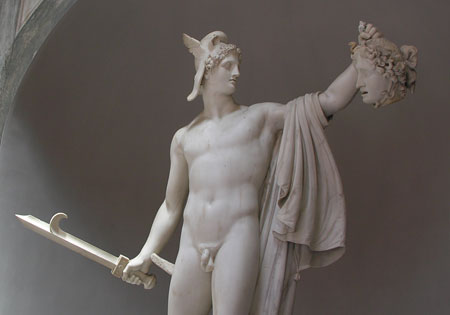 stained glass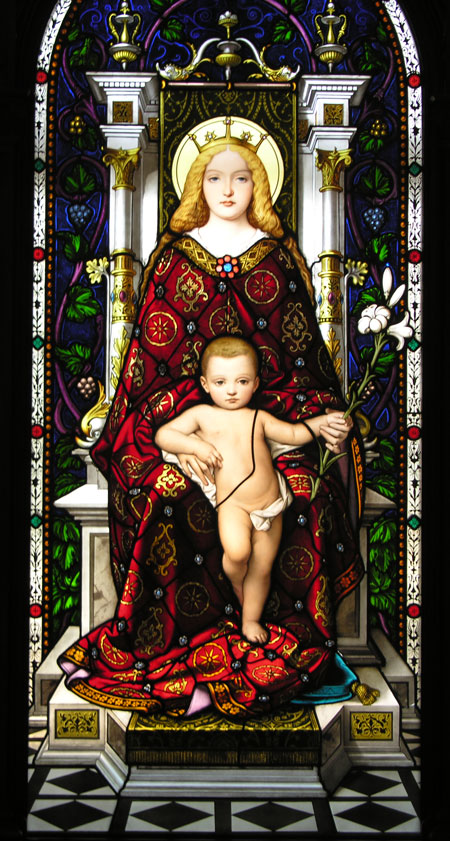 You must go through part of the vatican museums before you get to the room that is the chapel. Unfortunately, the rules were very clear about camera use inside the sistine chapel. They made us bag our cameras upon entry and anouncements were made at regular intervals about not taking pictures and remaining silent. Of course you had your rule breakers snapping away when no one was looking, but that wasn't us. It would have been great to have a personal (and professional) record of this event, but who hasn't seen pictures of the sistine chapel anyway? So I took the opportunity to really let this masterpiece soak in. There really aren't words to put to the experience. I guess that is when the phrase, "you just had to be there", is appropriate. Standing in the middle of the room looking up and really thinking about the artist, the times in which these paintings were created, their modesty modifications over the years, and the restoration, was mind blowing. I think that even someone who had no interest in art or the like would be moved while standing in this room. It reminded me of my own conviction that art can prompt a spiritual experience.