DAY 23 SUNDAY JULY 17
Bryan and I go up to the terrace to have some breakfast before heading across the street to the basilica. The tower bell rings at quarter to 11 to call for mass. Daniel was fighting cold symptoms so he stayed in bed.
I did not take this picture, it is a promo shot from the hotel of the terrace.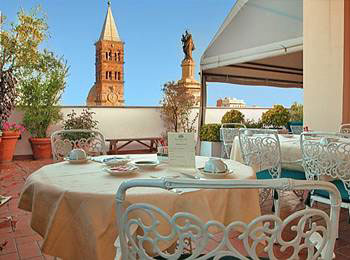 We head over to the church and take a seat with other attenders. There is a slight juggling act with tourists coming and going while services take place. The mass is in italian (of course) but I didn't need to understand the language to appreciate the beauty. And we heard the Palestrina Choir. This was another one of those exeriences that was kind of surreal. Walking in the pathway of the historical church can broaden ones perspective. I felt like each day of the trip was adding another part as we continued to see the places where so much history was made. As the service went on I saw our friend at the front sitting with some of the other priests. We watched and listended as mass was said and communion distributed. Lots of pomp and ceremony. After the procession we just sat in our chairs letting it soak in as others got up and went out. After a while we got up and looked around this amazing building. On the outer part of the nave we notice our friend sitting in one of the confessionals taking confessions (in seven languages). When he is free we give a wave and walk over for a little chat. He welcomes us with a warm hand and asks if we liked the chior. He likes to talk but soon we say our goodbyes as another service is about to start.
Here is the inside of Santa Maria Maggiore facing the back of the church. This basilica was built in 432 but added to by several popes throughout the centuries. Mosiacs from the 5C line the upper walls.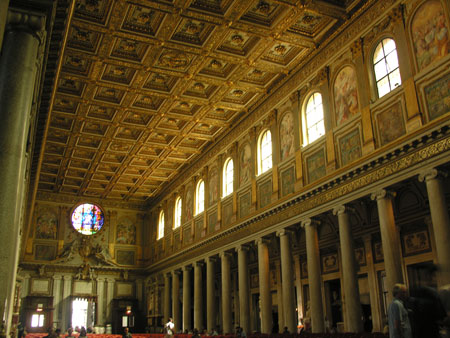 Mosiac on the outer face of the basilca.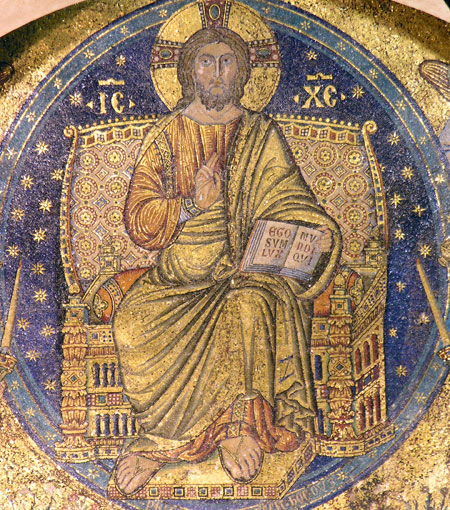 After lunch at a cafe across from the basilica, We head out for a walk around this historic neighborhood. I was surprised by the stark contrasts in this city. One minute you are inside very grand cathedrals, and then outside, just steps away, you find graffiti and stacks of garbage.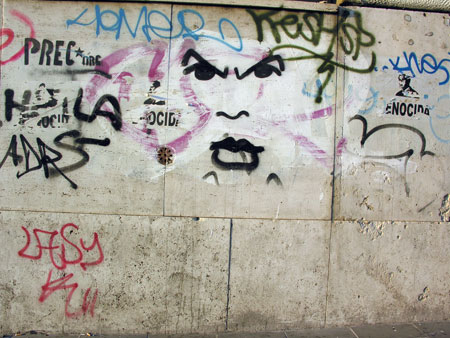 Santa Pudenziana is the oldest church in rome and is said to be where senator pudens, who lived in a house on this site, welcomed Peter under his roof. Today we witness a small Filipino community that uses this historic building for mass. Humble and imperfect compared to the grand spectacle of the mass at santa maria, Bryan and I find ourselves moved by the heartfelt gathering going on here. There was even what appeared to be a youth service underway in the courtyard.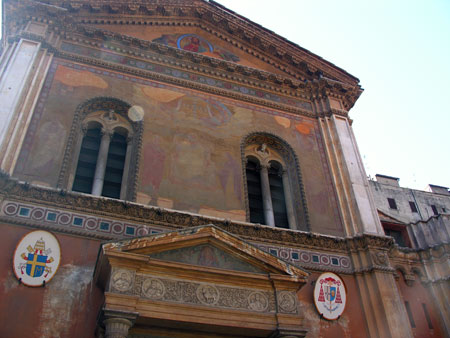 Following the map in our Green Guide, Bryan leads us to what appears to just be a long wall with a humble door marked with this.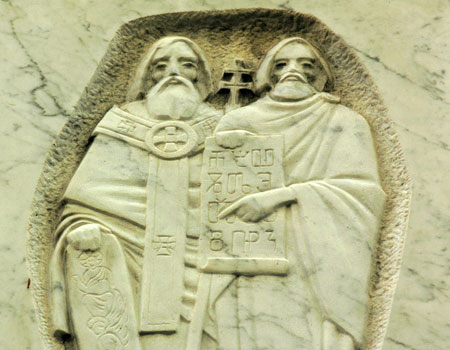 Probably founded by Andronicus and Junia (between 33-37 AD, Aquila and Priscilla may have worshiped in this "titulus" or house church. The present building was put up in 822 over the original home, and now houses Santa Prassede. Another relic bearing church, this one has the marble post that christ was tied to for scourging. Again we step back into history.
This byzantine mosiac was created around 824. The full arch depicts christ with all of the apostles.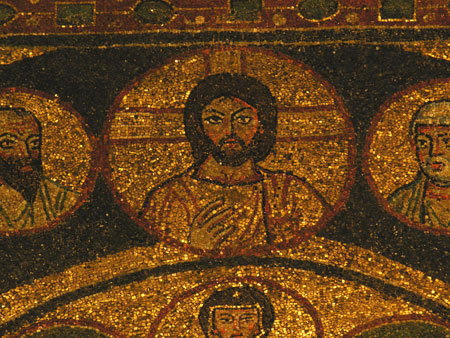 Still in use as a benedictine monastery, the one caretaker that we saw didn't appear to be a monk, but who knows. A very tall man in a checkered shirt with squeaky shoes (which really flew in the face of all the signs of "silence please" everywhere) took delight in showing various tourists the coin operated machine that turned on the lights to allow you to view the mosiacs. Bryan kept feeding it euros so that I could take pictures.