DAY 7, FRIDAY, JULY 1
Today was a shift in gears by a few hundred years going from gothic relics to french neo-impressionism. I had the priviledge of running into this guy who politely introduced himself and even let me take his picture. I had so many questions for vince and we had a nice little chat. Standing in a room filled with his work with him looking on as you admire it puts you in an interesting frame of mind let me tell you. His style and use of color seemed such a departure from his fellow and preceeding impressionists that I found myself unexpectedly drawn to it. This museum houses such a special collection that it is hard to describe. Viewing an artists work by seeing a room filled with it has a much more significant impact than seeing a single token example. Room after room was like this. Degas, Monet, Cezanne, Renoir. Yes there were more tears. My only regret is that I didn't have a whole week for just this museum.
considering vincent.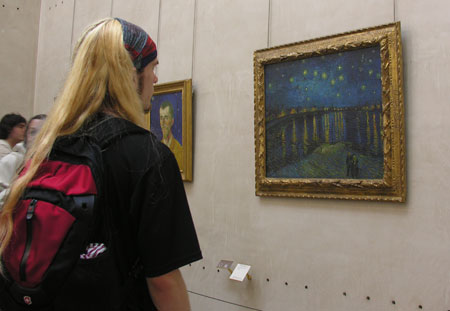 Next it is on to Eiffel's tower where we pay homage to one of the world most photographed monuments. They say that most of the time she has her head in the clouds which makes for hazy photos and today was no different for us.
Here the guys plant an unexpected kiss on me as the timer on my camera snaps this fun family photo. If you are reading this mom, yes, I have gained some weight, you will just have to get over it.
About an hour later Daniel's camera is stolen which was not so nice. Totally insured and replacable. What wasn't easy to replace was the wonderful pictures that he didn't get to take and I was down one gifted photographer on the business side of this trip. bummer.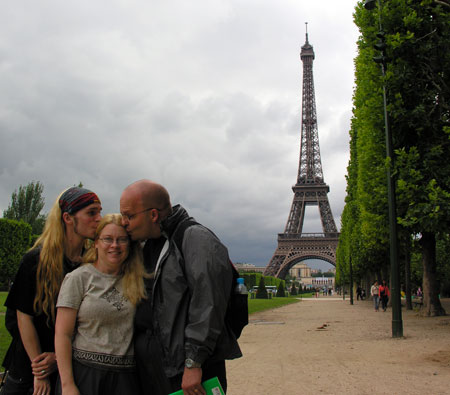 A ride to the top of eiffel was a wish come true for Bryan. Here we see a little mockery aimed at me, even so, this was an important moment for him as he was denied the ride 20 years ago while on a euro tour with a high school music group.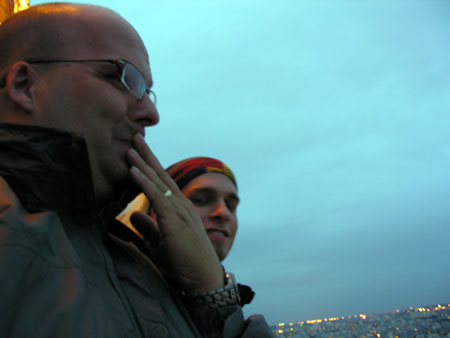 We did the lift to the top which involves a stop in the middle which for someone like me who gets slightly disoriented in high places is an exciting ride especially when I was lucky enough to get the window spot(smashed up against it) in the overcrowded elevator. Makes for great video footage though. Lines are outrageous and patience is a great thing to unpack at this point as you inch your way around the ropes toward the lift. I took the time to notice the people around me and it was really fun to observe all the people from around the world gathered for the same reason, to go home and declare that they had been up the eiffel tower. I marveled at the variation of groups, families and nationalities as we repeatedly passed each other in this winding line. Small children playing peek-abo, families chatting and laughing in various languages and the token high school kids from a group tour who seemed less interested in where they were than some dating drama(ok I was eavesdropping, what can I say). I am not sure how long it took to get to the top but at this point in our trip we weren't paying that much attention to time. The only indication was the scene that we witnessed with the angry american woman who apparently missed her chance to get to the top and was blaming some poor french eiffel attendent (i don't know what his title was) with a verbal punishment that the whole tower heard.
view from the top.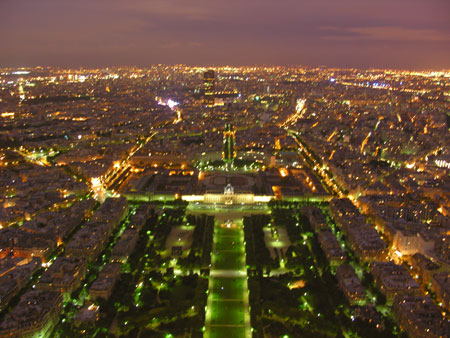 Even though we didn't mind the lines, going down was a bit different and we opted for the stairs for part of the trip. It is really fun running down the stairs on the inside of all that gridwork at night.