DAY 22 SATURDAY JULY 16
A final coffee with Maria Rosa and we pack up our suitcases for our next destination, Rome. We leave our quiet villa and say goodbye to Ermanno, the owner of this charming place. He had been so gracious to us throughout our stay, lending us a road map, assisting with suggestions and directions all through the language barrier. He spoke a little english but more french. We speak a little french and no italian. Somehow we created a french-english-italian sort of soup that enabled us to communicate. Ermanno had even invited us into his home down the road. Another stone cottage but much more lived in, he had his home office. An architect with a gift for interior design which was obvious by the villa, Ermanno was still working on parts of the property. In fact, as perfect as the villa was there was one thing Ermanno still hadn't gotten around to do. All of the light fixtures were unfinished. Being the remodeling fools that we are Bryan had to restrain himself from picking up a toolbelt and doing some wiring.
Here is Ermanno posing for a picture in front of his villa. Grabing two fruit trees he says in english with a heavy italian accent, "my land".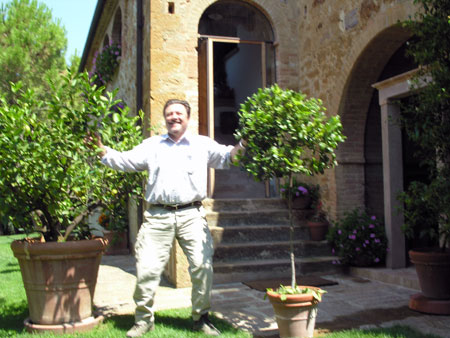 Even the outdoor spigot was creative.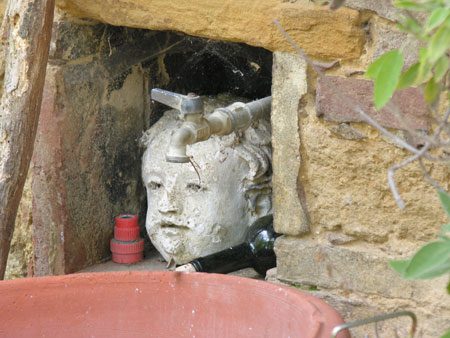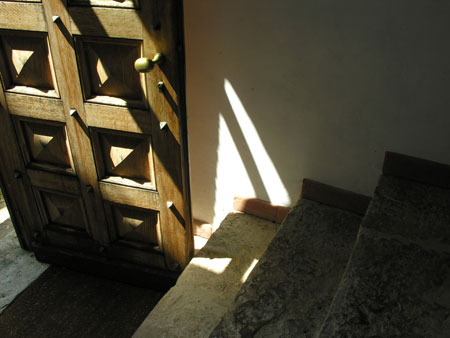 We get in the car and find a little roadside place to grab a panini (sandwich) and we are off to rome. Always somewhat on the clock we take advantage of the two hour trip to film some road footage. After I unsuccessfully try to hold the camera steady, we stop to rig the tripod so that the camera is propped up just infront of me and against the dashboard for easier filming. Two hours of timelapse from petroio to rome!
Our hotel, the Mecenate Palace, was across from Santa Maria Maggiore(shown here).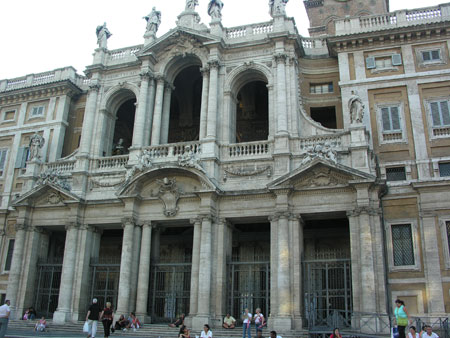 After settling into the hotel, Bryan and I go for a walk and meet this talkative priest from Santa Maria Maggiore. This basilica is one of the four "major" basilicas in Rome, another of which is St Peters. The priest, S. Priore, Dr. Jan-Raffaele De Brabandere is part of the Apostolic College of the Vatican, is a doctor of sacred music, was a professor of something I don't remember, and speaks seven languages. We just happen to catch him locking up the church. Dr. De Brabandere and Bryan engage in a discussion about each other's occupations, church music, and the state of the church, as well as a little italian politics. Our new friend tells us that we must not miss the 11:00 service tomorrow as the Palestrina Choir will be singing. Another treat for my musical husband. We discover later that Santa Maria Maggiore Basilica was the very place that Giovanni Palestrina began his historical career. Wow.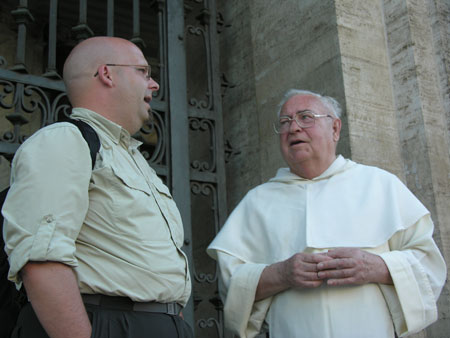 Here I am with Jan-Raffaele. He insisted upon trading information so that we could send him a picture for his "book". Such a dear man, we promise to visit again tomorrow.